Sarajevo prosecutors said Friday that 11 former members of the Bosnian army had been charged over the 1992 attack on Cemerno in which 30 people were killed.
Six of them had been arrested last week close to Sarajevo, the Bosnian capital.
The victims at Cemerno, a mountain village southeast of Sarajevo, were aged between 18 and 80. Ten of them were women, according to a prosecutions' statement last week.
The first group, comprising 14 Muslim former Bosnian army officers and soldiers, was arrested in early December for alleged murder, torture and persecution of Bosnian Serb civilians around the southern town of Konjic.
One of those arrested in the first group had been a military attaché to the Bosnian embassy in the Netherlands.
Former interior minister Kovac charged
The Balkan Transitional Justice website also reported on Friday that former Bosnian Serb Interior Minister Tomislav Kovac had been charged for controlling police alleged to have been involved in the massacre of Bosniaks at Srebrenica in 1995. Kovac has denied police complicity.
The 1992-1995 conflict in the former Yugoslavia claimed more than 100,000 lives and displaced more than 2 million people from their homes.
The war began when Bosnian Serb forces, responding to a Muslim-Croat vote for independence from federal Yugoslavia, tried to forge a Serbian state.
The majority convicted by local and international courts were Serbs, including General Ratko Mladic for the Srebrenica massacre.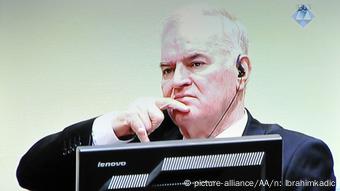 Mladic: Convicted after a trial running since 2011
He was jailed last month in The Hague as the International Criminal Tribunal for the former Yugoslavia (ICTY) wound up its work.
Friday's announcement followed outcries by Serb victims' associations that the Bosnian judicial system was not doing enough.
In October, a former Bosnian Muslim commander, Naser Oric, was acquitted.
ipj/jil (Reuters, AFP)