Samsung's fourth quarter earnings report, released Friday, has revealed the ongoing strength of the company's smartphone division. Sales increased 30 percent quarter-on-quarter as a result of the firm's introduction of new models.
This wasn't quite enough to beat its main rival Apple, which sold 37 million units in the fourth quarter, compared to the 36.5 million smartphones sold by Samsung.
However, the South Korean producer came out on top for 2011, according to market researcher Strategy Analytics. Throughout last year, Samsung found 97.4 million buyers for its products, whereas Apples came in second with 93 million units sold.
Both companies remain locked in a battle for smartphone dominance and are engaged in a bitter court fight over patents for the design and technology that goes into their phones and tablet computers.
Sluggish TV sales
Samsung posted a 17-percent increase in fourth-quarter earnings with net income totaling 4 trillion South Korean won (2.7 billion euros/$3.6 billion), up form 3.42 trillion won in the fourth quarter of 2010. The positive result was due mainly to strong smartphone sales which largely offset declines in demand for liquid crystal displays (LCDs) units.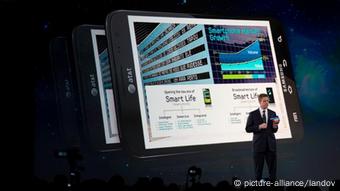 Samsung's brand promotion at electronics fairs has paid off
The company's flatscreen segment suffered an operating loss of 220 billion won in the last quarter. Even though memory chip makers have been hit by plummeting prices for their products, Samsung has done better than its competitors by diversifying into chips for mobile devices.
Fourth quarter smartphone shipments worldwide rose by a staggering 55 percent, quarter-on-quarter, to a record 155 million. Throughout last year, 488.5 million units were sold, up 11 percent from 2010.
Samsung said it expected demand for electronic devices in general to be rather slack for the next couple of months, but predicted business would gain momentum in the second half of 2012 with a view to a slowly recovering global economy.
Author: Hardy Graupner (AFP, dpa)
Editor: Martin Kuebler