Seoul's Defense Ministry said that it allowed Christian groups to light the massive steel tower on Saturday, so that it would be clearly visible across the border. It's to stay lit until January 2.
Dozens of church leaders and followers put up the giant display - featuring thousands of glittering light bulbs on a tree-shaped steel tower - near the heavily-fortified border on Saturday, a defence ministry spokesman told AFP.
Pyongyang views the tower as propaganda warfare, though it has not yet responded to this year's lighting.
The lighting came 10 days after North Korea placed a satellite into orbit aboard a long-range rocket. South Korea and the U.S. say the launch was a test of banned missile technology.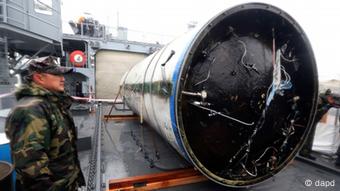 South Korea recovered part of the rocket launched by their neighbor
The tree wasn't lit last year after officials asked Christians to refrain from doing so to avoid tension following the death of North Korean leader Kim Jong Il last December.
Before the South's "Sunshine Policy" of engagement with North Korea, launched in 1998, the seasonal lighting displays were common. Pyongyang repeatedly condemned them as "psychological warfare" by its capitalist neighbour, aimed at spreading Christianity in the isolated communist state.
The latest illumination provoked fear among some local residents who staged a protest amid concerns about potential retaliation from the North, according to Yonhap news agency.
"All residents here are left to tremble in fear...as long as the light tower stays here," a group of residents said in a statement.
Before Kim's death Pyongyang warned of "unexpected consequences" if Seoul displayed Christmas lights in 2011, and vowed unspecified retaliation.
North Korean rocket 'could reach US'
Further heightening tension, the South Korean defence ministry said on Sunday that North Korea's recent rocket launch amounted to the test of a ballistic missile, capable of carrying a half-tonne payload as far as the US west coast.
North Korea launched its three-stage Unha-3 rocket on December 12, insisting it was a purely scientific mission aimed at putting a polar-orbiting satellite in space.
Sunday's estimate was based on analysis of an oxidizer container - recovered from the rocket's first-stage splashdown site - which stored red fuming nitric acid to fuel the first-stage propellant.
"Based on our analysis and simulation, the missile is capable of flying more than 10,000 kilometers with a warhead of 500-600 kilograms," a defence ministry official told reporters.
But without any debris from the second and third stages to analyse, the official said it could not be determined if the rocket had re-entry capability - a key element of inter-continental ballistic missile (ICBM) technology.
"As additional pieces have been salvaged, we will be able to look deeper into the function and structure of North Korea's long-range rocket," said a defence ministry official quoted by Yonhap.
The communist North apparently timed the widely-condemned launch to mark the first anniversary of the death of its longtime ruler Kim Jong-Il and drum up more support for his son and successor, Kim Jong-Un.
Since the launch, Pyongyang's propaganda machine has gone into overdrive to heap praise on the ruling Kim dynasty for leading the successful mission and to urge support for the young ruler who took over a year ago.
The nuclear-armed nation has awarded medals to 101 rocket scientists and technicians who worked on the launch, the official Korean Central News Agency said Sunday.
bk/jr (AP, AFP)