Russian news agency Interfax reported this week that Moscow will spend over 80 million euros ($110 million) by 2012 to entice back former citizens of German descent who have immigrated to Germany as well as to stem the further westward flight of its ethnic German minority. The money is to be mainly invested in industrial centers in Western Siberia and the Volga region.
German immigrants were invited to Russia during the 18th century by Czarina Catherine the Great, herself a German princess. Oppressed during the Soviet era, their descendants were sent into forced exile to Kazakhstan and other remote areas by Soviet dictator Josef Stalin.
With the fall of the Soviet Union in 1991, some 2.3 million of them had come to Germany by 2005, drawn by nearly automatic citizenship offered by Berlin and a desire to get to know their roots. Ethnic German emigrants from Russia make up the largest group of the 4.5 million people with ethnic German heritage who migrated to Germany.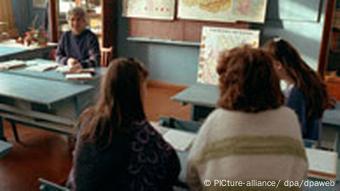 A classroom in a German high school in Tomsk, Siberia
Russia's efforts to help the social and economic development of its remaining and dwindling ethnic German community -- 600,000, according to official figures -- have been welcomed by Berlin. Over the past years, President Vladimir Putin's administration, aided by generous financial backing from the German government, has launched a number of programs towards that purpose.
Berlin not happy with Russian stance
But Moscow's efforts to lure back its former citizens now living in Germany in order to plug domestic labor shortages have sparked a less than enthusiastic response in Berlin.
With one of the world's lowest life expectancy rates and falling birth rates, Russia faces a demographic problem with economic consequences. According to a UN study, Russia will need two million immigrants in the next decade to maintain economic growth.
Putin offered a package of incentives for ethnic Germans living abroad
Last year, Putin's government invested heavily in infrastructure and housing in Siberia, particularly in the city of Novosibirsk, to draw ethnic Germans living abroad. Those who returned were offered 3,000 euros ($4,106), travel compensation and free transportation of their belongings.
The German government's commissioner for ethnic Germans and national minorities, Christoph Bergner, emphasized that the German government will "not guarantee any support, either financial or moral," to ethnic Germans wishing to move back to Russia.
Speaking at a press conference last month in the economically flourishing Russian exclave of Kaliningrad, Bergner said no one could expect Berlin to promote the flight of young, skilled workers at a time when Germany itself was struggling with a low birth rate and major skills shortage.
Getting ready to leave again
Experts, however, point out that the reverse migratory trend is already underway with ethnic Germans who migrated to Germany packing their bags for Russia.
Elmar Welt, who works for a charity called "Heimgarten," which was founded to help the repatriation of war refugees, said the organization has been sought out by over 700 Russian-Germans wishing to move back to Russia and parts of the former Soviet Union.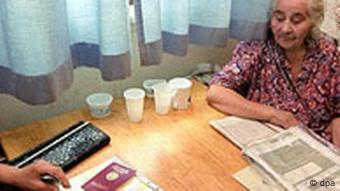 Older ethnic Germans living in Germany sometimes want to go back to Russia for personal reasons
While some want to go back because they feel isolated, miss Russian culture and have problems learning the German language, Welt said, the prospect of getting well-valued work remains a major attraction.
"Many ethnic Germans in Germany suffer from complexes because their degrees aren't recognized in Germany with the result that you have teachers and engineers working as cleaning staff," said Welt. "Now, they have a chance to use their skills."
According to the organization, Kazakhstan alone over the past two years has awarded new passports to over 2,000 ethnic Germans returning from Germany.
Just a trickle
Whatever drives an ethnic German to return to Russia, some say it would be a mistake to make too much of the numbers opting to go back to the former Soviet Union. Reports differ on the actual number. Russian Web site "Russland-Aktuell" reported that in Kaliningrad, despite 12,000 enquires since last year, only 17 people had moved to the booming Russian exclave -- most of them Russian families from Latvia.
Viktor Krieger, an expert on Russia at the University of Heidelberg, said only a fraction of ethnic Germans in Germany were leaving.
"More than 95 percent of them are staying because they're rooted here in Germany and are treated as equals," Krieger said. "You have to actually wonder why so few are going back."
The problem with Moscow's plans to lure back ethnic Germans was that it failed to mention a single word about revitalizing the ethnic German community in Russia and focuses on developing agriculture and rural areas, Krieger said.
"There's nothing in there about setting up a German museum, a university or a research institute for ethnic German culture," he said.