Russia has been banned from the Winter Olympics, the IOC announced on Tuesday in a decision that comes just 66 days before the 2018 Games in Pyeongchang are due to begin.
Russian deputy Prime Minister Vitaly Mutko, who was Sports Minister at the time of the last Winter Games in Sochi 2014 and organized the 2018 World Cup, has also received a lifetime Olympic ban while the Russian Olympic Committee has been suspended in connection with doping. The Russians have received a $15 million fine that will pay for the IOC's investigations into the case and toward future anti-doping work.
Despite that, some Russian athletes will be able to compete under a neutral flag in Pyeongchang, as they were in the Summer Games in Rio 2016.
IOC President Thomas Bach said they will be able to take part, under strict conditions, with the name 'Olympic Athlete from Russia'. The Olympic anthem and flag will replace the Russian anthem and flag during ceremonies.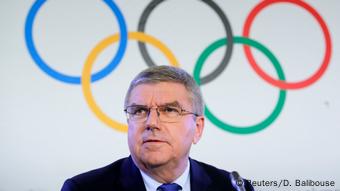 IOC President Thomas Bach in Lausanne in Tuesday
"An Olympic boycott has never achieved anything," Bach said at a news conference at the IOC's headquarters in Lausanne, Switzerland. "Secondly, I don't see any reason for a boycott by the Russian athletes because we allow the clean athletes there to participate."
He added that no accreditations to the Games would be given to the Russian ministry of sport.
The head of Russia's Olympic Committee, Alexander Zhukov said the decision was far from justified. "Punishing the innocent is unjust and immoral. This completely contradicts the basic Olympic principles," he was quoted as telling the IOC by the R-Sport news agency in Lausanne. "Everyone should answer for his sins."
Tuesday's decisions come after a 16-month investigation led by the former president of Switzerland, Samuel Schmid, and the news last month that the World Anti-Doping Agency (WADA) judged Russia to be 'non-compliant' with its anti-doping code.
"The results are not based only on (whistleblower) Grigoory Rodchenkov's testimony," said Schmid after Tuesday's announcement. "There is scientific evidence, witness statements, documents and correspondence.
"The facts are that in Russia there was systemic manipulation of doping and the anti-doping system ... that also took place at Sochi 2014 (Winter Olympics)."
Schmid's report followed one from Canadian law professor Richard McLaren. That found that Russia had engaged in a state-sponsored doping program that included 1,000 athletes across 30 sports between 2012 and 2015.
The McLaren report, commissioned by WADA, was released on the eve of the Rio 2016 Summer Games but, on that occassion, the IOC allowed individual sports federations to make a decision, meaning hundreds of athletes ended up competing, some under neutral flags.
With the country set to host the World Cup in 2018, Russia has repeatedly denied the existence of a state-sponsored doping system, and said on Tuesday that it would defend its athletes against doping allegations.
mp/mds (dpa, Reuters)