Romania's main leftist party emerged from local elections on Sunday as the top vote-getter, signaling they will likely be able to form a government after parliamentary elections at the end of the year.
The Social Democrats (PSD) won 45 percent of all votes in mayoral elections across the country compared to the centrist Liberal Party (PNL) at 35 percent, according to partial official results released Monday.
Taking into account the votes of PSD allies ALDE and the National Union for Romania's Progress, the social democrats secured well over 50 percent of the vote.
The PSD's candidate, former journalist Gabriela Firea, secured Bucharest's mayoral seat. The party also picked up all six districts in the capital.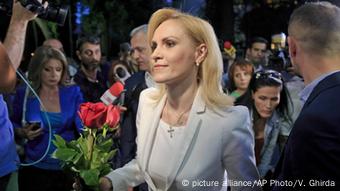 PSD's Gabriela Firea will take over the capital.
A low turnout of 48 percent appears to have helped the PSD against the PNL, which is closely tied to President Klaus Iohannis. The results for the PNL were disappointing, coming only a year after they were ahead in the polls.
Looking the other way on graft
Romania's largest city has been run by an interim mayor since former mayor Sorin Oprescu was arrested last year on suspicion of taking bribes in exchange for awarding municipal contracts.
The country has been at a political standstill since a scandal following a devastating nightclub fire in Bucharest that killed 64 people. The calamity ultimately forced the downfall of the corruption-tainted administration of Prime Minister Victor Ponta, the leader of the PSD.
Officials who have been indicted on corruption charges but not convicted are not barred from seeking office. A number of politicians who are under investigation for corruption ran for office.
The PSD mayor of Baia Mare, Catalin Chereches, who is currently in jail pending trial on corruption charges, was re-elected. So too were the mayors of Brasov and Craiova, who have been indicted on graft charges.
According to Romania's anti-corruption prosecutors' office, more than 100 mayors, deputy mayors, county council presidents and vice presidents were indicted on corruption charges last year.
Romania, one of Europe's poorest countries, is being run by a cabinet of technocrats until a parliamentary vote at the end of the year.
cw/jm (AP, dpa, Reuters)