Since each EU state is entitled to having a representative in the European Commission, a new post had to be created ahead of the Jan. 1 accession of Romania to the EU: that of commissioner for multilingualism. The post has been carved out of the portfolio of Culture and Education Commissioner Jan Figel.
After Romania's first candidate, Varujan Vosganian, was rejected by socialist members of the European Parliament as being "on the payroll of economic tycoons," the candidacy of Leonard Orban, Romania's secretary of state in the Ministry of European Affairs, is expected to go through without major glitches.
During a recent hearing in the European Parliament, Orban stressed that multilingualism is a must in the EU as it forms part of its identity.
"English is not enough," Orban said. "Multilingualism is good for businesses and competitiveness."
A white elephant?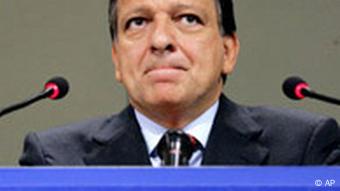 European Commission President Jose Manuel Barroso stressed the importance of EU's language policies
In addition to working on ensuring good communication inside the institutions and with EU citizens in different languages, Orban will, if approved, work on protecting minority languages and push for more language learning in schools.
"I will bring forward ideas on how to get EU students to speak at least three languages fluently," he said.
Critics, however, have questioned whether the job will entail any real political power against the more heavyweight posts in the commission.
But Commission President Jose Barroso has defended the post, stressing the real need for better management of the EU's language policy. The EU will adopt three new languages -- Bulgarian, Romanian and Irish -- 2007, raising the total number of its official languages to 23.
The EU spends 1 percent of its annual budget on translations services alone.
An experienced politician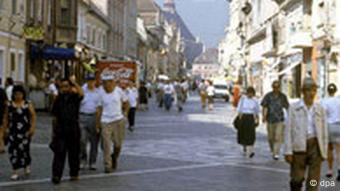 Brasov is a city of 300,000 in central Romania
Leonard Orban, who speaks fluent English and French, in addition to his native Romanian, was born on June 28, 1961 in Brasov. He studied engineering in Brasov and, later, management at the Bucharest Academy for Economic Sciencies.
He started working for the European Union in 1993. At the time, he was Romania's parliamentary advisor for European affairs. From May 2001 until December 2004, Orban was his country's deputy chief negotiator and subsequently chief negotiator with the EU. In April 2005, he was -- together with the Romanian president, prime minister and foreign minister -- one of the signatories of the Romanian accession agreement in Brussels.
Orban has always defended Romania's EU aspirations and made clear what duties Romania would have to take on upon joining the bloc.
"I don't think we should talk about gains and losses, but rather about advantages and efforts," Orban said. "In the medium and long run, the Romanian living standard will improve significantly, even if it doesn't happen right away. I'm really thinking here about the quality of life, which cannot be only reduced to higher wages. As far as efforts are concerned, we must definitely continue with reforms in numerous areas."
Increasing Romania's profile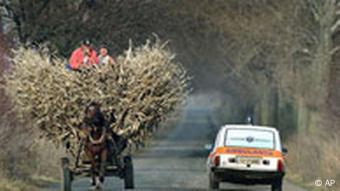 Romania still has a lot of catching up to do with the EU
Before commissioner designates can take up their places, they must get the approval of the European Parliament. The parliament will take a final vote on Orban's appointment -- along with that of Maglena Kuneva, Bulgaria's candidate for the post of commissioner for consumer protection -- on Dec. 12.
If approved, Leonard Orban will not only have to convince the EU that Romania -- often portrayed as a corrupt and backwards country -- is a worthy new member of the European family, but also fight against the growing EU fatigue of the people in his own country.
That is why Orban never gets tired of stressing that Romania, whose influence on the international scene is limited, can only gain from its entry into the EU.
"After the integration, Romania will be able to play a greater role on the European level," Orban said. "Becoming a part of the European decision-making process, we will be able to influence those decisions to some extent. Romania will simply have a say in the European Union."