Günter Grass died of a lung infection on Monday, April 13, in the northern German city of Lübeck, the Steidl publishing house announced.
His life, full of ups and downs, moments of triumph and turmoil, began on October 16, 1927. Günter Grass grew up in a rather humble home: His parents ran a grocery store in Gdansk (then known as Danzig), but their customers were so poor that they couldn't always pay the bills. The Catholic family lived in a very small apartment.
"A childhood between the Holy Spirit and Hitler," is how biographer Michael Jürgs sums up the environment in which Grass spent his childhood. At the age of just 17, he witnessed the horrors of World War II as a member of the Hitler Youth. He later joined the Waffen-SS, a Nazi special forces unit. It would be decades until he would be able to talk openly about these experiences - which later caused a scandal. During his years as a teenager and a young man, he focused on how to survive the war.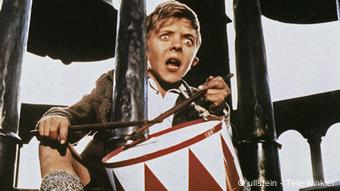 A scene from the film version of Grass' breakthrough novel, "The Tin Drum"
Beginnings of a bestselling author

1952: the Federal Republic of Germany was still in its infancy, and so was the intellectual development of Grass. He was interested in art, studied sculpture and graphic design, joined a jazz band, and traveled a lot. In 1956, he settled down in Paris for some time, where he lived a rather modest life together with his first wife.
That's where his brilliant career as an author began. Grass produced his first novel "The Tin Drum" in 1959, sparking an uproar in the rather conservative society of the former West Germany before it became a huge international success. The book was translated into numerous languages and adapted into a movie. Exactly four decades later, its writer received the Nobel Prize for Literature.

Creative and productive
Günter Grass wrote dramas, poems, and especially fiction, the list of his works is very long, among them "Cat and Mouse" and "Dog Years," which, together with "The Tin Drum" were part of his famous "Gdansk Trilogy;" "Local Anesthetic," "The Flounder," "The Rat," "The Call of the Toad," and "Crabwalk." Most of his works dealt with political conditions and social upheaval, like the sinking of a refugee ship in the Baltic Sea in 1945, the role of intellectuals in the uprising in former East Germany in 1953, the student protests of 1968, federal election campaigns and political relations between the East and West.
As a native of Danzig, reconciliation between Germany and Poland always remained a particularly important topic to Grass. Despite some critics lamenting that Grass' books were too heavy and political in nature, all of his works became very successful and sparked heated debates among literary circles in Germany. Yet none of them ever managed to match the enthusiasm created by the drumming Oskar Matzerath of Grass' very first novel, "The Tin Drum."
Morality and politics
Günter Grass was a multi-talented artist, not only a novelist and poet, but also a sculptor and designer who occasionally also designed the covers of his own books. Considered by some as a moral authority and by others as a radical leftist, his political views divided the nation. Since 1961, he committed himself to the Social Democrats (SPD) without being a party member, and he supported Willy Brandt in his election campaign in 1969. Later on, he did join the SPD - only to give up his membership a few years later in a row over alterations of the right to asylum.
Grass always remained a very critical observer, an independent leftist who, making use of his reputation, interfered in political issues now and then. He spoke out against the deportation of Kurds, for the compensation of former forced laborers during the Nazi era, for human rights, for persecuted writers and against wars.
In 2006, he saw himself forced to admit that, during the Second World War, he himself had not been altogether innocent. His former membership in the notorious Waffen-SS, mentioned in his 2006 autobiography "Peeling the Onion," caused a stir both in Germany and abroad, besmirching his reputation as a moral authority. Suddenly he who had always advocated stringently dealing with Germany's Nazi past was accused of being a hypocrite.
A poem as a provocation
A rift seemed to grow between the writer and the public, a moral authority holding up a mirror to the Germans was no longer needed. Grass caused yet another international uproar in April 2012 after publishing a text entitled "What must be said." The text, which he labeled a poem, contained thinly veiled criticism of Israeli policy with Grass warning of an Israeli nuclear strike against Iran and calling the state of Israel, its nuclear capabilities and its occupation policy a threat to world peace.
The pamphlet sparked outrage. Grass, accused of anti-Semitism, became persona non grata in Israel. Nevertheless, he remained a role model throughout his lifetime - not least for his younger fellow writers. Author and critic Uwe Tellkamp considered him "one of the strongest narrative powers in German literature," while fellow author Moritz Rinke casually referred to him as "perhaps the most interesting and most versatile dinosaur."