The most recent case came as a wake-up call to German security agencies: Even through he was registered with them as a radical Islamist and blacklisted from entering the country, Mohamad Arifi succeeded in doing just that.
Even though Arifi is under suspicion of calling on Islamists in Syria to take up arms, he was speaking freely in the mosques of Heidelberg and Berlin. Exactly how he was able to enter Germany is the subject of an ongoing investigation.
Arifi's case isn't an isolated one. Illegal immigration has risen by 18 percent over the past year, pushing the total to more than 21,000 people who entered Germany without permission. On top of that, there have been around 5,000 cases in which perfectly legal three-month-long residence permits have been silently - and unlawfully - extended by their holders. All of these incidences reflect a clear lack of immigration security.
The European Union has done away with border checks along its internal boundaries. With Germany located at its geographic center, it depends on functional immigration procedures in the countries that line the union's outer frontiers.
Security system in the making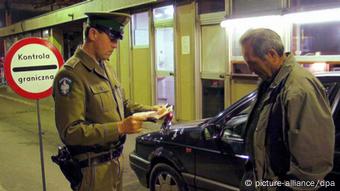 Checking documents at the Polish-Ukrainian border
If German Interior Minister Hans-Peter Friedrich has his way, surveillance of individuals travelling through Germany and the EU is to become tighter. For that, he has his eyes on two groups in particular: Citizens who, until now, mandatorily had to have a visa to enter Germany - such as from African countries or Russia - and those who are already free to enter without a visa, both from within and outside of the EU.
Technically, there are already procedures in place for anyone who has to apply for a visa: German embassies and consulates are to strictly verify the purpose of a visit, find out how the applicant intends to finance travel and living expenses, and inquire about departure details.
Despite a number of bribery scandals in 2000 and 2004, these procedures appear to basically work. In 2012 alone, out of around 2 million visa applications, 138,000 were rejected by German authorities abroad - with security concerns cited as the top reason.
Especially Russia and Turkey are keen to have these strict regulations loosened or lifted altogether for their citizens - a request the German government says it's happy to comply with, but only under the condition that visas be replaced by another control system.
The planned immigration registry is to contain details of all travelers who are exempt from the visa application process and are therefore free to stay for up to 90 days. The idea is that, before their arrival, they register themselves online and clearly state their purpose for visiting the EU or Germany.
Advantages of a registry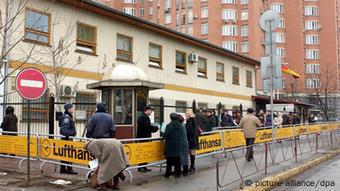 Focus of a bribery scandal in 2004: the German consulate in Kiev
There are too many loopholes in current German visa regulations, according to expert policymakers in Berlin such as Michael Hartman of the Social Democrat party. Many Russians, he says, travel from St. Petersburg to Finland, and then continue their journey to Germany. "We know neither of their arrival, nor of their departure," Hartmann says.
As his party's representative in the parliament's Committee on Internal Affairs, he supports a common control system across the EU. "This chaos we have had until now has to stop," he said, adding that currently, no one has a complete overview of the situation.
Reinhard Grindel is the Christian Democrat Union (CDU) party representative within the internal affairs committee. An immigration registry, he said, has one distinct advantage: "If in the future someone doesn't leave after three months, that person specifically could then be searched for."
But Grindel added that he expects any such immigration registry to be up and working in two to three years, at the earliest.
Too much control, says opposition
Grindel's estimates are based at least in part on the upcoming national election this fall, as their outcome is proving hard to predict. And no matter what the result, plans for the immigration registry have already been criticized.
From the ranks of the Free Democratic Party, the CDU's current coalition partner, comes concern about data protection issues. The Greens and the Left party have also expressed concern over too much government control.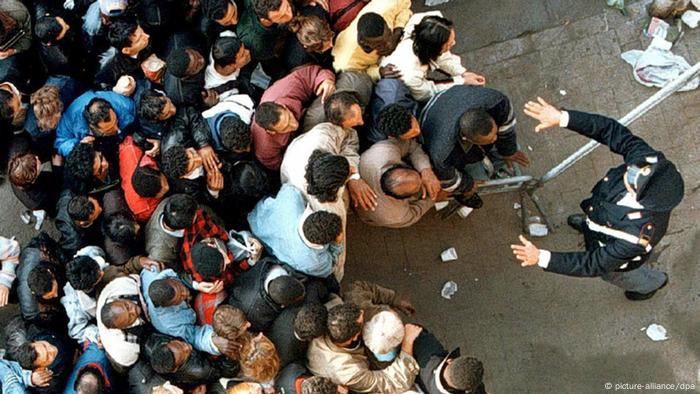 The new system is to curb illegal immigration into the EU
As interior politics expert for the Greens, Memet Kilic points to the already existing "Schengen Information System." It's a search system which, he says, is already partially dysfunctional. Kilic therefore remains critical regarding the interior minister's announcement of a more comprehensive approach "following the US example."
Frequent travelers, for example, would be given a "token" - a small technical device - supposed to ease their movements. "What if something like that gets lost or stolen?" asked Kilic, believing that the new system would bring new security loopholes.
Meanwhile, Hartman says that there are definitely no plans to use an immigration registry for generating any form of intelligence files. Grindel is keen to disperse worries that the system could incorporate biometric data, as is the case in the US - for the moment: "I don't think this is something we will wait for, as we know from experience with the Schengen Information System that we can't fulfill the necessary technical requirements for that."
Support from Brussels
Already in 2008, then-EU Interior Commissioner Franco Frattini pushed for a centralized European border control system. This would also use satellites and drones to survey the EU's southern and eastern perimeters. For a long time those plans had been shelved - but that could change.
By the end of February, the European Commission wants to issue recommendations on a legal framework for an EU-wide population register. Once this happens, ideas that are currently taking shape in Germany are likely to gain momentum, too.