Migrants are apparently looking for new routes to Britain after French security at the undersea Channel Tunnel discovered a group of migrants Friday that were stowed away on a freight train.
The discovery comes a day after Britain and France announced tougher security to guard the Channel Tunnel and deter asylum seekers who risk their lives trying to walk through the tunnel or climb aboard trucks headed for Britain.
"The incident shows that now that security at the Eurotunnel site has been increased in line with operating volumes, migrants are seeking new routes to cross to the UK," a spokesman for the tunnel operator told the Reuters news agency.
Calais terminal a staging ground for refugees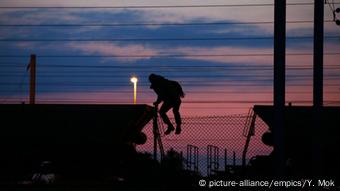 At least 10 migrants have died trying to sneak through the Channel Tunnel to Britain since June; an unknown number have slipped through undetected. About 3,000 refugees remain encamped outside the busy terminal waiting to cross the English Channel.
Following the arrest of the undisclosed number of stowaways by French border police, the freight train was sent back to a yard operated by SNCF, the French national railways, at Frethun, near Calais.
Authorities at the port have been watching for signs of migrants seeking new routes to Britain as a result of the crackdown in Calais terminal, a major rail and ferry hub that connect the European continent with Britain.
jar/kms (AP, Reuters)