"Putin's presents" was the headline of a Kyiv newspaper on Wednesday (18.12.2013). Another paper claimed the country's currency, the hryvnia, would "remain stable." "Cheap gas and a loan, what do they want in return?" asked a third.
"As long as that question hasn't been answered, you can't really evaluate the new contracts between Russia and Ukraine," said Andrij Nowak, an economics expert from Kyiv. He questions Moscow's generosity. "We're likely to pay a high price," he told DW.
No mention of customs union
At a meeting with Russian President Vladimir Putin on Tuesday (17.12.2013), Ukrainian President Viktor Yanukovych signed several contracts. From January, Ukraine will receive a near 50-percent discount on Russian gas - 268.5 dollars per 1,000 cubic meters instead of 530 dollars. In addition, Ukraine will receive a 15-billion-dollar loan from Russia.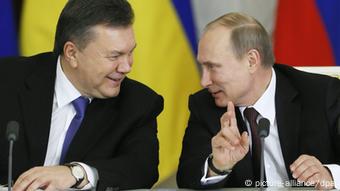 Ukraine is receiving hefty discounts on Russian gas
Crippling trade restrictions imposed by Russia will also be eliminated. That should be good news for Ukraine's oligarchs. Ukrainian goods - whether steel pipes, freight cars or fine chocolates - can now be exported to Russia without restrictions. There were also agreements on new projects in the energy, aviation and aerospace sectors.
But, according to Putin, there was no mention of Ukraine joining the customs union of former Soviet republics. In the past, Putin had always stressed that Ukraine was welcome to join the union, which has been pushed by Moscow. The Ukrainian government said it would continue to work on improving ties with the European Union.
Moscow has geopolitical reasons
Opposition leaders who are in favor of closer ties with the EU and who have been protesting on Kyiv's Independence Square, the Maidan, suspect treason. They are concerned that Yanukovych might have made concessions to the Kremlin that are not in the interests of the country.
The reason for Putin's change of heart, according to economics expert Ihor Burakowski from Kyiv, is geopolitics. "Russia wants to re-establish a kind of Soviet Union; that's why it's prepared to give Ukraine lots of money," he told DW. "Moscow is now Ukraine's biggest provider of funds. The financial dependence will only grow stronger."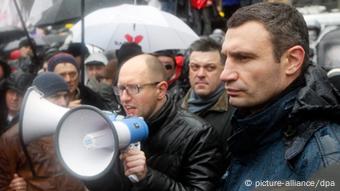 Klitschko and Yatsenuk want early elections
Klitschko challenges president
The head of the Fatherland opposition party, Arsenij Yatsenuk, agrees. "You only get free cheese in a mousetrap," he said on the Maidan on Tuesday night to the roughly 15,000 demonstrators who followed the call of the opposition.
Since the beginning of the protests, the opposition has been calling for early parliamentary and presidential elections. Yatsenuk said he hopes to achieve that by more demonstrations and a vote of no confidence in parliament. The presidential election is currently scheduled for March 2015.
Meanwhile, Vitaly Klitschko has declared Yanukovych his "main rival." So far, the boxing champion-turned-politician is the only opposition figure to run for president.
Yanukovych returns a winner
Observers in Kyiv, however, say early elections are unlikely, as Yanukovych has now returned from Russia as a winner, strengthened by Russia's money. Putin's billions are enough to avert financial collapse. Without the loans, Ukraine would go into default in around three weeks' time, according to estimates.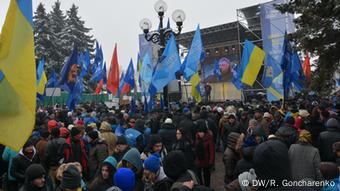 Pro-Yanukovych protesters are on the streets in Kyiv
A Kyiv judge is an example of just how grave the situation is. "We haven't been paid for two months," the judge, who wants to remain anonymous, told DW, pointing to a situation last seen in the 1990s. Judges are traditionally seen as government-friendly and important supporters of Ukraine's elite.
No uprising against Yanukovych?
Government supporters from eastern and southern Ukraine are pleased with the contracts. "I'm glad we'll be closer to Russia," Andrij, a train driver from Donetsk, told DW.
Andrij is one of thousands of people who have come to Kyiv's government quarter for pro-Yanukovych demonstrations. Andrij and his fellow demonstrators are also not put off by the fact that Yanukovych has said he wants to foster ties with Europe.
After receiving help from Moscow, Yanukovych has little to fear at home. The general strike called by the opposition didn't materialize.
"As long as the president can keep things calm in the east and the south, he is safe," an EU diplomat said.
On the Maidan, a few thousand people are out protesting against Yanukovych and calling for the "victory of revolution." Meanwhile, all around them, millions of people in Kyiv go about their daily business.