One of the members of the Russian punk band, Pussy Riot, serving a two year sentence for a protest concert in an Orthodox church criticizing President Vladimir Putin was hospitalized on Friday (27.09.2013) after being held in isolation because she began a hunger strike on Monday.
Nadezhda Tolokonnikova, 23, wrote an open letter explaining that her decision to go on a hunger strike was in protest at the extremely harsh working conditions in the penal colony. She demanded human rights be observed in the prison, said prisoners were treated like slaves and that she was left with no other option.
Deutsche Welle spoke to Tolokonnikova's husband and legal representative, Pyotr Verzilov, about Tolokonnikova's condition and her imprisonment's effects on their family.
DW: Did you support your wife's decision to go on a hunger strike?
Nadia is a very firm decision-making person, so she brought this decision to me as something she had long thought about, something she had firmly decided because she had used all other options to effectively try to change the situation in the prison. And she found that they were completely ineffective.
Pyotr Verzilov has served as an unofficial spokesman for Pussy Riot
She started the hunger strike on Monday, what can you tell us about her current condition?
She has been moved to a solitary confinement cell which was cold so we demanded that the temperature was brought up to healthy standards. Obviously when you are on a hunger strike and you don't eat, temperature is very crucial for your well being. They have made some changes.
Have you been able to discuss with Nadia possible future scenarios should her conditions not be met? How long is she prepared to keep up the hunger strike?
When Nadia declared this hunger strike, she declared it would be a timeless hunger strike. She gave no time limit. She is really, really fed up with the situation in her prison.
In her open letter, she described how people who have become close to her in her incarceration have been singled out for punishment and used as a way of getting to her. How is she feeling now? Has she been left friendless, as was the threat by the authorities?
Right now, she is isolated from the rest of the prison. But from what members of the Presidential Council for Human Rights say - people who spoke to other convicts close to Nadia and are her friends - they say that obviously they are not being pressured at this time, but in verbal terms, the administration is making those threats and we have documents that the women are asked by the administration not to say anything to the outside Commission and to members of the Presidential Council about the conditions inside the prison under the threat of being punished, beaten up or moved to special detention cells.
You and Nadia have a young daughter. How have you explained Nadia's absence and the hunger strike to her?
Our daughter, Gera, is five and is well aware that Nadia is inside the prison. The Russian legal and political situation is very much like a cartoon story. You have the evil authorities and basically the good activists and political figures who try to fight the system in Russia. She does understand the situation in the cartoonish sense. I said that Nadia has declared she will not have meals with people who treat her badly. Gera understands that and that it might be a childish way to protest because often when children want to make their parents feel bad they refuse to eat. I think Gera understands this in similar terms.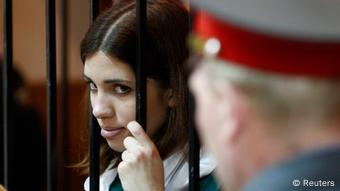 Tolokonnikova's husband is confident her sentence won't be extended
What have you told your daughter of Nadia's release? It is scheduled for March, but given her current hunger strike, there is a risk that it could be extended. She mentioned in her letter that getting her to fight with other inmates was a way of extending her sentence.
Obviously, we are 100 percent sure that Nadia will come out of prison in March 2014 because of the high profile nature of the case. Decisions on all key questions, and an extension of a prison term for Nadia is a key question, are being personally made by President Putin. For President Putin to make such a decision two weeks after the Olympic Winter Games in Sochi, which will be two weeks before Nadia's release, will obviously be like political suicide. We are sure that President Putin will not authorize these legal processes to start and that Nadia will be released as scheduled.
Both you and Nadia give the impression that you are very strong people. Nadia has not broken under the pressure. But looking back and considering what has happened since the performance Pussy Riot gave in the cathedral, do you have any regrets that you went too far?
This is a question for Nadia because she is the person experiencing all these horrors. But she feels that because this has shed tremendous light and international attention at incredible levels on the situation happening in Russia, maybe everything was worth it. After all, the major part of the story was the brutal reaction of the Russian government. If this is the price that President Putin, personally, and the Russian government are demanding to be paid for freedom, then this is the price political activists and politicians have to pay.