The Königliche Porzellan Manufaktur (KPM) has a long history dating back to the mid-1700s, when it was one of seven major porcelain manufacturers established in Germany to stock the nobitlity with high-end, hand-painted ceramics. But KPM -- like other historic German porcelain manufacturers, including Fürstenberg and Meissen -- has in recent years fallen upon troubled times.
Decreased demand coupled with increased competition from less expensive brands imported from China have left many wondering if "made in Germany" luxury porcelain would soon be a thing of the past. Now, Prince Franz Wilhelm von Preussen, the great grandson of Germany's last kaiser, has agreed to buy KPM, which has been threatened with insolvency.
The end was near
Prince Franz Wilhelm's offer comes just in the nick of time, as the factory's closure would have meant the loss of 170 Berlin-based jobs and a piece of Germany's cultural tradition. But with a yearly loss of €3.15 million ($4.16 million), finding a buyer was no easy task.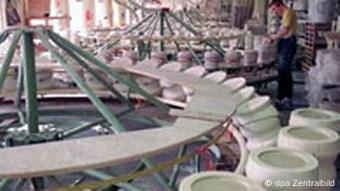 KPM got its name from Kaiser Friedrich II of Prussia, who bought up the former Gotzkowsky-Manufaktur in 1767.
The Berlin Senate, which remitted ownership of KPM to IBB, a Berlin investment bank, hired consulting firm Oppennhoff & Rädler to look for a buyer. They in turn compiled a list of 20 applicants, which included the Berlin-based entrepreneur Hans Wall and a Chinese investment firm. But, the sale was complicated by the local government's desire to find a buyer likely to invest in the company and keep manufacturing operations in Berlin.
Though the sales contract was signed on Thursday, it will still be discussed at a Berlin Senate hearing on Tuesday, and the deal must obtain the formal approval of IBB.
Few details of the deal, including the exact price paid by Prince Franz Wilhel, have been disclosed and some issues, such as the status of employees' pension plans, have not yet been settled. More may be revealed after the Senate hearings on Tuesday.
The search for new markets
Recent sales to hotels have helped boost profits, but Prinz Wilhelm will have to seek out new markets if he hopes to turn around the troubled company. He is expected to look for additional lucrative export opportunities, including seeking new buyers in London, Paris, New York and Tokyo.
Though KPM and other German porcelain manufacturers have faced increased competition from Chinese competitors, many of whom have cut costs by automating production, analysts hope true collectors will pay top dollar for German porcelain -- provided the brands are marketed correctly, showcasing Germany's long tradition of superior, hand craftsmanship.