"Margot Kaessmann has earned more than our respect, she has earned our esteem," writes daily Bild. "She has committed an error though has not attempted to cover it up, but rather has clearly and quickly confessed her guilt. This makes her a model." The publication goes on to say that Kaessmann's decision to step down from her post was a sign of her enduring moral standing. "Her straightforward nature and her courage have roused us. Margot Kaessmann needs no bishop's title. Her honorary title is that of a courageous woman."
The Berliner Morgenpost newspaper speaks of a Margot Kaessmann untarnished by this incident, adding that, according to the principals of Christianity, she should be forgiven. It writes that Kaessmann "was, is and will remain a remarkable personality: pugnacious, sometimes contrary, but always straightforward. The fact that this woman has resigned under these circumstances, because of this drink driving incident, after a very public divorce and an open battle with cancer, signals a crazy situation in this country. No one would dare resign over value-added tax or a donations scandal. But a red traffic light is another matter. Even Jesus would have to wonder."
It was "irritating" that Kaessmann did not act according to the will of the Protestant Church of Germany (EKD), of which she was the head, writes the Frankfurter Allgemeine Zeitung, which adds that the "Council of the EKD judged unanimously that the incident of Saturday evening was not grounds for a resignation … with her resignation, the church loses its most fascinating religious personality."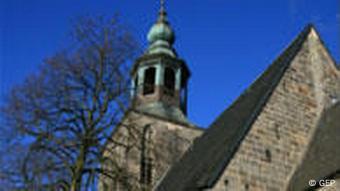 Germany's Protestant Church must now elect a new leader
The Financial Times Deutschland business publication was less forgiving of the 51-year-old former Bishop of Hanover, writing that the church must uphold its position as a central, moral authority. "The church's handling of the fallibility of its dignitaries will be a deciding factor in how plausible the institution remains," the paper says. "The decision by Margot Kaessmann to resign was the right one. The bishop endangered lives when she drove intoxicated through a red light. She bears the necessary consequences for this action in order to prevent further damage to her office and to the Protestant Church."
The conservative Muenchner Merkur, based in the largely Catholic Bavaria, somewhat agreed, writing that while Kaessmann's resignation was regrettable, it was the politically and morally correct thing to do. "A high-ranking ecclesiastical dignitary, caught in a battle for her own credibility, would be a dangerous weapon for those who are critical, even hostile, towards the church," the paper says. "Furthermore, Margot Kaessmann would have lacked the strength to lend a weighty voice to public discourse had she stayed in office. In this regard, her resignation was the final expression of her qualification."


dfm/dpa
Editor: Andreas Illmer