The highlight of the Potsdam ensemble is Sanssouci Palace, built as a summer residence and retreat for Frederick the Great. The garden is designed to take advantage of the best spots from which to view the architectural gem nestled in its scenic surroundings.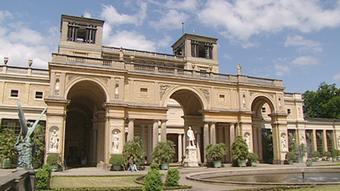 Glienicke Palace, a Mediterranean-style villa
Although it is located within the city limits of neighboring Berlin, Pfaueninsel – or "Peacock Island" – in the Havel River is also part of the heritage site. Frederick the Great's successor transformed the island into an idyllic landscape, complete with a menagerie filled with exotic animals.
Not far from the Pfaueninsel, Prince Carl of Prussia's Glienicke Palace, which dates from 1823, is reminiscent of an Italian villa. The Mediterranean-style garden designed by Peter Josef Lenné, the most famous garden architect of his time. The palace itself was designed by the prominent architect Karl-Friedrich Schinkel.
From Visit Germany
Editor: Sue Cox