A host of new posters are going up around London in underground stations, at bus stops and on black cabs intended to promote Islam as a faith that contributes positively to British society.
The posters, each with the tagline "Inspired by Muhammad," are part of a campaign by the Exploring Islam Foundation, a London-based Muslim organization that aims to create positive dialogue on Islam and improve the religion's image in Britain.
A recent poll by the research organization Yougov found that 58 percent of Britons surveyed associate Islam with extremism, 50 percent with terrorism and 68 percent feel the religion encourages the repression of women.
Remona Aly, campaigns director for the Exploring Islam Foundation, told Deutsche Welle her organization felt it needed to respond.
"Our goal now is to put forth the universal values that Muslims hold, which are ones of justice, of compassion, of mutual understanding and tolerance," she said.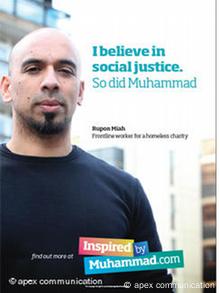 Many Britons associate Islam with extremism
Muhammad the environmentalist?
One of the posters features a woman wearing a headscarf with the caption "I believe in rights for women - so did Muhammad." Another features German-born former MTV presenter Kristiane Backer and reads "I believe in protecting the environment - so did Muhammad."
While the posters present a pretty face for Muhammad, Douglas Murray of the Center for Social Cohesion, criticized the campaign as misleading.
"One of the things that they wish to try to prove in this campaign is that Muhammad himself was a great believer in women's rights," Murray said. "That is highly contestable, and I think, wrong."
But Aly defended the posters' claims and said green living was one of the teachings of the prophet.
"He said don't be wasteful with water, even if you are next to a stream of running water," she said. "He told us to observe nature, to look at the elements of nature and learn from them, meditate upon them."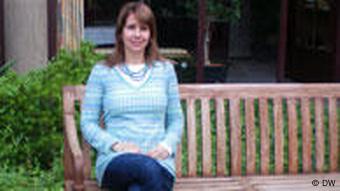 Backer, a former MTV presenter, converted to Islam
In curiosity, opportunity
Speaking of the Yougov survey, Murray said it came as no shock to him to hear that some Britons associate Islam with extremism and terrorism.
"The British people have seen such acts on their own soil," he said. "It was only in 2005 that self-proclaimed Islamists blew up the London tube." He added that while it is not an appropriate interpretation of Islam, the idea may have taken root with the British public.
But the poll also suggested a third of people would like to know more about the religion.
Backer, the former MTV presenter and a convert to Islam, said therein lays the opportunity for the Inspired by Muhammad campaign to change some minds.
"Islam is a very beautiful religion that contains highly ethical principles, spiritual principles," she said. "But nobody knows about that."
Author: Olly Barrat (acb/sh)
Editor: Nancy Isenson