Pope Benedict XVI on Sunday called for an end to the violence in Syria and attacks on Christian churches in Nigeria in his traditional "Urbi et Orbi" message marking Easter Sunday.
"May the risen Christ grant hope to the Middle East and enable all the ethnic, cultural and religious groups in that region to work together to advance the common good and respect for human rights," the pope said in a relatively short speech from the balcony of St. Peter's Basilica.
"Particularly in Syria, may there be an end to bloodshed and an immediate commitment to the path of respect, dialogue and reconciliation, as called for by the international community," he said.
The speech, whose Latin name translates to "to the city and the world," followed an open-air Easter Mass attended by more than 100,000 people in Vatican City. Easter Sunday is when Christians celebrate the resurrection of Jesus.
Benedict, who turns 85 on April 16, also called for "stability and development" in Iraq and for Israelis and Palestinians to "courageously take up anew the peace process."
He went on to call for a return to peace and stability in Mali after a military coup last month was followed by a widescale offensive by Tuareg rebels and armed Islamist extremists.
Violence blights pope's appeal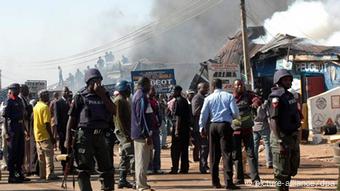 Kaduna has been the site of repeated attacks, many targeting Christians
The pope's speech fell on the same day that a car bomb outside a Christian church in Nigeria killed at least 16 people and wounded dozens others.
The attack in the northern city of Kaduna recalled similar attacks on churches on Christmas Day last year. The militant Islamist group Boko Haram claimed responsibility for the Christmas attacks, the worst of which took place outside the capital, Abuja, killing 44 people.
The pope condemned the "savage terrorist attacks" in Nigeria and prayed that "the joy of Easter grant the strength needed to take up anew the building of a society which is peaceful and respectful of the religious freedom of its citizens."

acb, ccp/pfd (AFP, AP, Reuters)