Michel Platini will quit as president of UEFA after his appeal against a FIFA-imposed six-year ban from all football activity failed.
Depite the failure of the appeal, the Court of Arbitration for Sport (CAS) did reduce Platini's ban to four years. The former France international's lawyers say Platini will now resign as UEFA's president at the organization's next congress, currently scheduled for 2017.
The three time Ballon d'Or winner said he won't give up the fight to clear his name.
"I note today's decision by the Court of Arbitration for Sport but I consider it a profound injustice," Platini said in a statement.
"This decision inflicts a suspension for which the length stops me, de facto, and by luck, from being a candidate in the next FIFA presidential election," he added.
"As agreed with the national associations, I resign as president of UEFA to pursue my fight before the Swiss courts to prove my probity in this case.
"Life has always kept beautiful surprises for me, now I am free to live them."
Panel left unconvinced
The CAS panel ruled it was "not convinced by the legitimacy" of the 2 million Swiss francs payment "which was only recognized by Mr Platini and Mr Blatter, and which occurred more than eight years after the end of his work relations."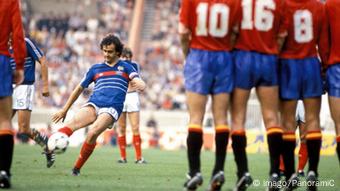 Platini won 72 caps with France
The payment was "not based on any document established at the time of the contractual relations and did not correlate with the alleged unpaid part of his salary," read the CAS statement.
The panel did, however, state it had considered that the suspension handed to Platini was "too severe" and therefore decided to reduce it to four years which "corresponds to the duration of a presidential term." The suspension was initially set at eight years before a reduction to six in February.
The UEFA executive committee is now expected to hold an extraordinary meeting on May 18 to discuss potential presedential candidates.