The 17-person Broadcasting Commission selected current ProSiebenSat.1 TV Germany Information Director Peter Limbourg as the successor to current DW head Erik Bettermann.
In the first and only round of voting, 14 members of the Commission voted in favor of Limbourg, who was presented as the finding committee's preferred candidate for the job, while one voted against and two members abstained. Bettermann, who has led Deutsche Welle since 2001 and pushed its reorganization, will step down as head of Germany's foreign broadcaster as of September 30.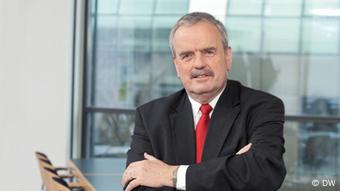 Bettermann has been DW's director general for 12 years
"Peter Limbourg has all the qualities needed to further strengthen Deutsche Welle as a modern media organization and improve Germany's international media presence as a result," said Valentin Schmidt, the head of the Broadcasting Board. "He is not only a first-class journalist with an international background and excellent language skills but also has extensive managerial experience in the media industry."
Multilingual, multimedia
The 52-year-old Limbourg thanked the Broadcasting Board for placing its trust in him.
"To have the opportunity to play such a significant role in how Germany is perceived around the world is a challenge that I will make every effort to meet in the coming years. Ever since my youth, which I spent abroad, Deutsche Welle's programs have been a valuable part of my life experience. Together with my colleagues, I hope to further enhance Deutsche Welle's journalistic standing and its multilingual and multimedia programming. Intensifying DW's cooperation with Germany's public service broadcasters ARD and ZDF is another goal I have set myself," said Limbourg.
After his military service, Peter Limbourg studied law in Bonn and passed the First State Examination of Law in 1987. From 1988 to 1989 he completed a journalistic traineeship at the German television news agency Deutsche Fernsehnachrichten Agentur (DFA) in Bonn and London. He worked as a reporter in Leipzig in the former GDR before becoming the Europe and NATO correspondent for DFA and SAT.1 in Brussels in 1990. In 1996 he became the Head of the ProSieben studio in Bonn, and in 1999 was appointed Co-Editor-in-Chief of N24 and Head of the Political Department at ProSieben, a position which he also took on at SAT.1 in 2001. In 2004/5 and 2008/9 Limbourg was the CEO of Pool TV, a joint venture of private television stations in Berlin. From 2008 to 2010 he was the Editor-in-Chief responsible for N24's programming. He has been anchor of SAT.1 news since 2008 and Senior Vice President of ProSiebenSat.1 TV since 2010.
Limbourg is the jury chairman of the Media Award of the German Bundestag, a jury member for the Axel Springer Prize for Young Journalists as well as an advisor to the Media Commission of the German Bishops' Conference.
Born in Bonn, Limburg spent his childhood and youth in Rome, Paris, Athens and Brussels. He is married with three children.