He was born in Salzburg, Austria; he died in Vienna. But in between, the composer spent time in the hometown of his father Leopold, in the Bavarian city of Augsburg.
When Leopold Mozart recognized the musical talent of his children, Wolfgang Amadeus and Anna Maria, known as Nannerl, he took them on a European tour, visiting courts and academies in order to present their abilities.
On their first trip, they visited Munich, Vienna, Frankfurt and Augsburg.
And it is in Augsburg, where the relationship between father and son will be especially highlighted during the Mozart Year 2006. For two weeks in May, the city will feature works from the pair performed as they would have been during their lifetimes.
Mozart's mentor and manager
Leopold Mozart was born in Augsburg on Nov. 14, 1719. While a talented musician and composer in his own right, he is most well known there today for the fact he was both determined manager and mentor to his exceptionally talented son.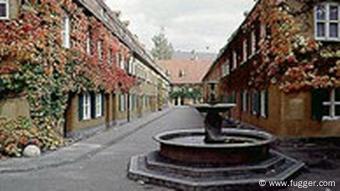 Mozart's great-grandfather lived here
For Mozart Year, the city has spruced up sites connected to the Mozart family. One is the house that Leopold Mozart was born in at 30 Frauentorstrasse.
"The rooms are arranged thematically," said one city official. "One features a biography; one illustrates the travels of the family. Above, there is a small multi-media room which has a slide show."
In the walled quarter of city known as the "Fuggerei," there is a stone tablet commemorating the musician's great-grandfather, Franz Mozart, who lived for 12 years in what is the world's oldest public housing project for the poor. He got into financial trouble and as a result, had a right to live in this quarter established by rich bankers in 1516.
The head of the city's tourist agency, Regina Thieme, says the neighborhood retains its atmosphere and its function to this day.
"It was seen as a moral duty then, when one was rich, to do good works," she said. "And even today, tenants pay a yearly rent of 88 cents."
Renaissance gem
Augsburg, after Munich and Nürnberg, is Bavaria's third largest city and one of the oldest in Germany. Full of Roman ruins, it was an international city during the Renaissance period and the evidence thereof is plentiful, particularly in the splendid facades of the merchant houses on Maximilianstrasse, in the fountain of Adriaen de Vries and in the sumptuous town hall built by Renaissance master Elias Holl.
The famous Golden Hall is an authentic example of a venue of the time of Mozart. A Rococo gem is the Schaezler Palace with its marvellous staircase, a two-story ballroom with precious wood panelling and Venetian chandeliers and mirrors. It was here that Leopold Mozart, in 1763, introduced his two children to Augsburg society.
Thomas Weitzel, who heads the culture office of the city, said there are links to Leopold Mozart everywhere.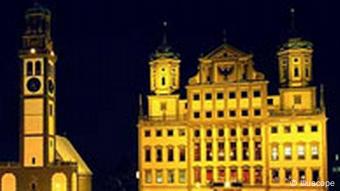 The town hall is a testament to Augsburg rich past
"Leopold himself want to school here in Augsburg, worked as a musician and singer at the Jesuiten Theater," he said. "If we look to the left, we will see the Tauf Church, where Leopold Mozart was baptized. A little further down Jesuitengasse, Wolfgang Amadeus Mozart's cousin "Bäsle" lived, his first love affair that has been preserved in letters."
In 1951, the German Mozart Society was founded in the city. The organization mainly researches Mozart's life and work. They have 17 regional associations around Germany and independent members around the world.
"We have about 3,000 members, a considerable number of whom are outside Germany," said Hansjörg Franzius, vice president of the institution. "They includes universities, associations, libraries and other organizations from almost everywhere around the globe, except China or South Africa. But we hope to welcome them soon, too."