Oklahoma's governor granted a last-minute stay of execution to an inmate convicted of hiring a hit man to murder his former employer Barry van Treese, a motel owner. The state said that it needed time to determine if its death penalty procedures complied with court orders.
Lawyers for Richard Glossip, 52, had argued for a stay, saying they had evidence pointing to his innocence, but were turned down by the US Supreme Court minutes before the scheduled start of the execution at 3 pm local time (20:00 UTC).
Governor Mary Fallin, a Republican, said the state corrections department needed time to address questions raised on Wednesday about Oklahoma's execution procedures and the chemicals used for lethal injections. Glossip's execution was moved to November 6. The state has been closely monitoring its execution methods after a botched execution last year.
Fallin said that she had ordered the delay over questions regarding potassium acetate, the last drug in the three-drug protocol used on Oklahoma's death row. Spokesman Alex Weintz explained that the Corrections Department routinely received the lethal drugs on the day of the execution. Prison officials had not realize they were sent potassium acetate instead of potassium chloride until the drugs were delivered.
A prominent case
Glossip, 52, had been scheduled to die Wednesday at the Oklahoma State Penitentiary in McAlester, 200 kilometres east of state capital Oklahoma City. He would have been the second inmate put to death on Wednesday in the United States after Georgia executed its first woman in seven decades, Kelly Gissendaner.
But his case has kept courts across the nation busy: Glossip's initial conviction was overturned, but he was convicted again in a 2004 retrial, which saw him sentenced to death. The actual killer in the case, Justin Sneed, has been serving a life sentence without the possibility of parole. Sneed had agreed to a plea bargain by pleading guilty and testifying against Glossip.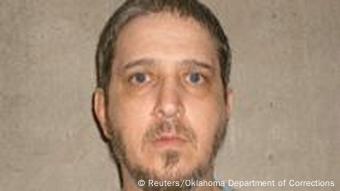 Death Row inmate Richard Glossip said he was grateful for receiving the 37-day stay while the method of execution in Oklahoma was due to be reassessed
Glossip's case made headlines in June when his challenge of the execution method came before the US Supreme Court, which ruled 5-4 against Glossip and two other death row inmates. Their lawyers argued that the use of Midazolam, a drug meant to induce unconsciousness, violated the US constitutional ban on cruel and unusual punishment. Midazolam was first used in an execution in 2014 after two other drugs used to sedate inmates became difficult to procure following an embargo from EU drug companies to supply drugs for the procedure.
Glossip's execution already has been delayed twice, once when the US Supreme Court decided to take up his drug challenge, and again two weeks ago to allow Oklahoma courts time to review claims of new evidence that ultimately were rejected.
Pope Francis had personally appealed for clemency in Glossip's case.
Capital punishment still a key social issue
Three more inmates were scheduled to be executed in the coming week in Oklahoma, Texas and Missouri. The overall number of executions in the United States has declined in recent years. The 35 executions carried out in 2014 were the lowest total in two decades.
Thirty-one of the 50 states, plus the federal government and military, retain the option of capital punishment for certain crimes, according to the non-governmental Death Penalty Information Centre, which opposes the practice.
ss/bw (Reuters, AFP, dpa)