Guenther Oettinger faced tough questions on Thursday as the European Parliament assessed his suitability for the post of European Union energy commissioner. The question and answer session was part of a process during which the European Parliament decides whether to approve the new team of European commissioners, each from a different member state. The Members of the European Parliament (MEPs) have the power to veto the entire committee if there are doubts around individual candidates.
The key question came from Reinhard Buetikofer, a Green party MEP from Baden-Wuerttemberg, the state which Oettinger governs. Buetikofer asked whether Oettinger would introduce binding energy conditions for member states if it became apparent that the EU would not reach its target of getting 20 percent of its energy from renewable sources by 2020.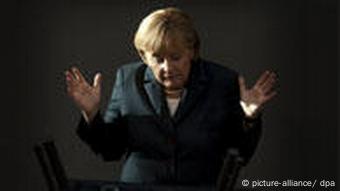 There have been suggestions that Merkel has sidelined a rival
Oettinger replied that he was prepared to introduce such measures in two years "if not enough is achieved voluntarily or through market forces."
Oettinger had a similarly clear answer to Austrian MEP Hannes Swoboda's question about the future standards required for nuclear waste storage. "They must be the highest," he said. "And they must be determined by the latest scientific findings." He added that this would also be the case, even if it "led to extra costs or problems for the operators."
Partnership with Russia
The new commissioner also called on the EU to work in partnership with Russia on key energy issues like securing a constant supply of cheap energy and the problems of energy storage.
The state premier of Baden-Wuerttemberg, who plans to give up his post at the end of January, apparently gave a good impression at the three-hour parliamentary hearing, receiving applause on several occasions. He said he would be a "moderator, and not an ambassador for nuclear power," and that he accepted that energy would and should be gained from many different sources.
Surprise candidate
Last October, German Chancellor Angela Merkel surprised many in Brussels and Berlin by nominating Oettinger for the post of energy commissioner. The regional politician has no track record in European politics, and the appointment was seen by many as having more to do with Merkel's party political agenda than his suitability for the job.
If he's approved, Oettinger will be responsible for important new projects in his five-year tenure at the EU, like gas pipelines and developing more efficient energy supplies, though his actual policy-making power would be fairly limited.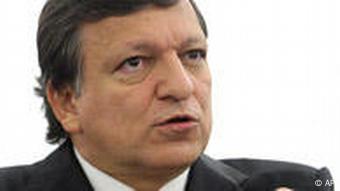 Barroso was said to have asked "What's this?" when Oettinger's name first came up
Awkward past
But Oettinger, a member of Angela Merkel's Christian Democratic Union (CDU), also has a checkered political past. His dealings with his home state's energy giant EnBW drew some attention, as did his ill-advised eulogy to Hans Karl Filbinger, a former Baden-Wuerttemberg premier with a Nazi past.
There have also been awkward questions in recent weeks on the subject of money-laundering. The government of Baden-Wuerttemberg recently faced accusations from the federal finance ministry, as well as a lawsuit from an independent financial advisor, for not doing enough to fight money-laundering.
Back in October, Barroso reportedly asked "What's this all about?" on learning that a state politician with an image problem was to be sent to Brussels to represent Germany. Oettinger's appointment also got the rumor mill turning in Berlin, where there were suspicions that Merkel removed him from domestic politics out of self-interest, "dumping" a potential rival in Brussels.
bk/Reuters/APD/dpa
Editor: Michael Lawton