Greece's economy is expected to remain in recession in 2012, making it even more difficult for it to reach deficit-reduction targets set out as part of the conditions of a bailout funded by the European Union (EU) and the International Monetary Fund (IMF).
Figures from Greece's 2012 draft budget, which was presented to parliament on Monday, indicate that public debt will rise to 172.7 percent of gross domestic product (GDP) next year. The deficit is projected to drop to 6.8 percent of GDP in 2012, but that is short of the target of 6.5 percent agreed with its international creditors.
However, the finance minister, Evangelos Venizelos, said the draft marked a turnaround in Greek fiscal policy.
"The 2012 budget completes an intense and difficult effort of fiscal adjustment, reaching a primary surplus of 3.2 billion euros ($4.3 billion) in 2012 from a primary deficit of 24 billion in 2009," he said in a statement.
This is to be achieved in part through the 7.1 billion euros in new taxes contained in the draft.
Falling short in 2011
The budget was unveiled a day after the finance ministry in Athens revealed dreary figures for this year. It said it expected Greece's budget deficit to reach 8.5 percent of GDP this year, falling short of a target of 7.6 percent.
"Three critical months remain for the completion of the financial year 2011, and the final estimate of 8.5 percent of GDP deficit can be achieved if the state mechanism and citizens respond accordingly," a statement released by the finance ministry said.
Mass public sector layoffs
In addition to the new taxes, the Socialist government of Prime Minister George Papandreou has implemented deep spending cuts.
In the latest move, the government on Sunday announced a plan to effectively sack almost 30,000 public sector workers. Under the proposal, the civil servants would be placed on a "labor reserve" on 60 percent of their wages for a period of 12 months - after which they could be dismissed. Around two-thirds of those affected are thought to be within a couple of years of retiring.
The public sector, whose employees are protected from dismissal by the Greek constitution, accounts for one-fifth of Greece's labor force, and civil servants have no intention of accepting the cuts without a fight.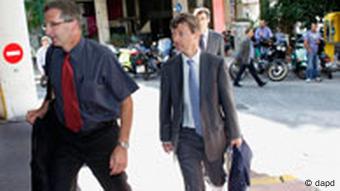 EU and IMF officials are examining Greece's books
The country's ADEDY public sector trade union announced on Monday that its members would walk off the job for 24 hours beginning on Tuesday. The private sector union GSEE said it wold take its workers out on strike on Wednesday.
International scrutiny
Meanwhile, the finance ministers of the 17 countries that share the euro single currency were set to meet in Luxembourg on Monday to discuss the latest 8-billion-euro ($10.7-billion) tranche of a loan to Greece, which the International Monetary Fund (IMF) has blocked for the past month.
Without the latest installment in the European Union and IMF's Greek bailout, Athens says it will default on its bills within weeks.
Inspectors from the so-called "troika," made up of the IMF, the EU and the European Central Bank, have been in Athens since Thursday, after they cut short a meeting nearly a month ago because the government had failed to implement pledged reforms. With their work nearly completed, they are widely expected to approve the release of the latest payment.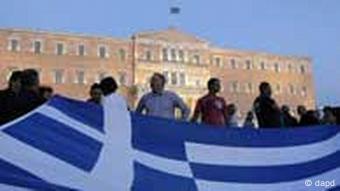 Greek austerity measures have been met with protests
Austrian Finance Minister Maria Fekter told Germany's Welt am Sonntag newspaper she thought the eurozone was likely to grant Greece a new slice of aid.
"The likelihood that the next 8-billion-euro slice of aid will be paid out to Greece is, in my view, clearly higher than the likelihood it will not be paid," she said.
"It should not be the case that the payment of individual tranches of aid becomes a battle every three months because Greece threatens to fall short of the conditions," she added.
Athens is struggling under at least 350 billion euros of debt. The government has promised the troika to introduce new taxes, cut state wages by an average of 20 percent and reduce the number of public-sector workers by 2015.
Author: Chuck Penfold (dpa, Reuters, AFP)
Editor: Michael Lawton