When Narendra Modi's Bharatiya Janata Party (BJP) won India's parliamentary elections in May this year with a thumping majority, most Indians were ecstatic, buying into Modi's electoral promises and hoping that a government with absolute majority would provide the country with some much-needed stability.
And therefore, despite Modi's alleged involvement in the 2002 Gujarat riots where 1,000 people, mostly Muslims, were killed, India's stability-seeking neighbors too decided to opt for the practical path to diplomacy.
Modi made the first move - he invited Sharif to attend his oath-taking ceremony in New Delhi. Sharif opted to reciprocate Modi's friendly gesture and went to the Indian capital on May 26 with a "message of peace." Experts said it was an unprecedented step by a Pakistani leader to engage with a Hindu nationalist like Modi on such a high-level.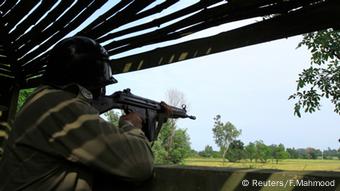 The recurring Kashmir conflict has made it difficult for Sharif to seek a lasting peace
"There were high hopes for the improvement of bilateral relations between India and Pakistan with the fresh start of a new government. Before Prime Minister Modi came to power, the relations between the two neighbors were at an all-time low as all bilateral processes had been interrupted," Sarah Hees, Resident Representative of the German foundation Friedrich-Ebert-Stiftung in India, told DW.
A history of enmity
Having separated after independence from British rule in 1947, the two countries had fought three full-scale wars over the span of six decades and been entangled in multiple territorial disputes, notably that of Kashmir.
And in less than two months after the historic meeting of Prime Ministers Sharif and Modi in New Delhi, the armies of the two nuclear-armed South Asian nations began to trade gunfire along the Kashmir border. Things were back to square one in a very short time.
"There has never been a real peace process between India and Pakistan. It is only a 'cooling down' of emotions and tensions for a brief period of time. This has been happening since 1947," Farooq Sulehria, a London-based journalist and researcher, told DW.
Terrorists in Pakistan
While the recurring Kashmir conflict made it difficult for Sharif to engage in a peace process with India, Islamabad had to recognize the immense danger that terrorism posed within Pakistan. On December 16, Taliban gunmen attacked a school in Peshawar, killing almost 150 children and staffers in the five-hour siege that followed.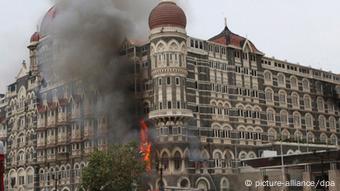 There are doubts that India can trust Pakistan unless those behind the Mumbai attacks are brought to book
Indian sympathy was soon to follow - the parliament and India's schools observed a minute of silence honoring the victims, but, as India's former ambassador to Islamabad and political commentator G. Parthasarathy told DW: "India was still not persuaded that Pakistan was embarking on a comprehensive combat against terrorism."
The Indian government still believed that Pakistan was targeting only those terrorists who were acting against its own state machinery, Parthasarathy said, referring to the masterminds and planners of the Mumbai attacks in 2008 in which 160 people died.
Soon after the December 16 attacks, a Pakistani court released Zaki ur Rehman Lakhvi, allegedly accused of masterminding the 2008 strikes in Mumbai. Parthasarathy believed that it was impossible for India to take Pakistan's claims of establishing peace with India as long as the perpetrators of the attacks were still at large.
"What Mr. Sharif says does not persuade us, what he does will persuade us," Parthasarathy told DW, adding that India expected Pakistan to bring terrorists of the Haqqani network, the Afghan Taliban and the Lashkar-e-Taiba, allegedly responsible for the Mumbai attacks, to justice.
Pakistan's prime minister, however, has other problems to deal with.
NATO's withdrawal from Afghanistan
The Pakistani premier faces the challenge posed by a emboldened anti-government movement as well as doubts about the government's control over its own security apparatus. Islamabad is also thought to fear that New Delhi might seek to expand its influence on Pakistan's western borders, once the NATO combat forces leave Afghanistan.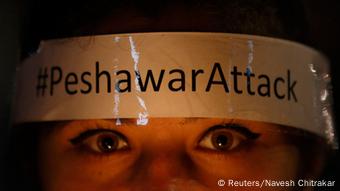 Desperate grief was evident after the Peshawar school killings, amid questions of how attacks can be stopped
Sulehria believes that the battle for Afghanistan would not allow India and Pakistan to live in peace. "Kabul is friendlier towards New Delhi now, whereas Islamabad continues to back the Taliban, as now officially admitted by Pakistan officials. Pakistan wishes to change this scenario and turn Afghanistan into its political backyard once again," said Sulehria.
As far as India is concerned, analyst Parthasarathy says, India will keep pressing for Pakistan to act against terrorists who attack India: "We would like things to change, but things cannot change as long as Pakistan discriminates between terrorists who target it and terrorists who target Afghanistan and India from Pakistani soil."
Islamabad-based journalist, Abdul Agha, says Islamabad and India should stop meddling in Afghanistan, restart comprehensive peace talks to discuss all conflicting matters, resume trade and allow an increased people-to-people contact across the border.
"It is up to Islamabad and New Delhi whether they want 2015 to be a good year or a bad year. They can engage in a long, futile proxy war in Afghanistan and continue trading fire along the Kashmir border. This will only destabilize the whole region. The only people who will benefit from this scenario are the extremists," Agha told DW.