The decision to stay away was not a boycott in protest to China's crackdown on Tibet or its wider human right record, Foreign Minister Frank-Walter Steinmeier said Friday.
Steinmeier said that neither the chancellor, Interior and Sports Minister Wolfgang Schaeuble nor he had plans in place to attend even before the People's Republic's recent crushing of pro-independence protestors in Lhasa.
"As far as I know, Schaeuble has not planned to take part in the opening ceremony... As for myself and the chancellor, I don't think so either," Steinmeier told journalists ahead of an informal meeting of EU foreign ministers in Slovenia. "In that sense, there has been nothing to cancel."
"A 'no' to the Olympics in order to relieve our consciences would help neither the people in China nor the sports organizations... At the moment I am against the kind of boycott debate that is going on in some European member states," he said.
"This is not the right moment to talk about a boycott of the Olympics... We should watch how the Chinese government deals with the situation in the next weeks and months," Steinmeier said. But the subject of forming a joint EU position was unlikely to be debated at the foreign ministers' meeting, Steinmeier added.
"I can't imagine it, because I can't say who has already decided to take part, so there can't be agreement on canceling that attendance," he said.
As sports minister, Schaeuble is expected to travel to Beijing as a traditional sign of support for the German athletes at a later date during the Olympics. German President Horst Koehler is expected to attend the Beijing Paralympics, which take place in September.
Berlin says Merkel never had any intention to attend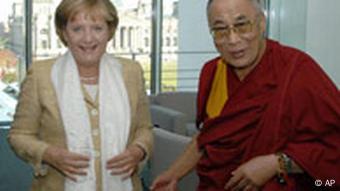 Berlin says Merkel's decision has nothing to do with Tibet
In Berlin, deputy government spokesman Thomas Steg said: "I can confirm that Merkel never had any intention of being a guest at the Olympics, either at the opening ceremony or at the sporting events."
The EU foreign ministers, in Slovenia for two days of talks, are under increasing public pressure to send a strong message to China over Tibet but have so far been divided over boycotting the Beijing Olympics opening ceremony.
No one was seeking a full boycott of the summer games as they arrived for the talks at Brdo Pri Kranju, near the Slovenian capital Ljubljana, but most EU nations have openly condemned the Chinese crackdown on protests in Tibet which left some 140 dead, according to Tibetan leaders in exile.
The official EU line so far has been to call for restraint and urge China to open a dialogue on cultural rights with the Dalai Lama, whom Beijing has accused of inciting the pro-independence riots.
More European leaders to stay away from opening ceremony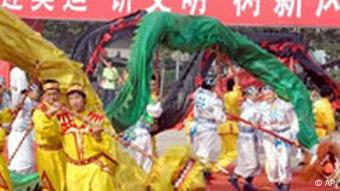 Fewer and fewer European leaders will be at the opening
Several leaders of eastern European states -- Czech President Vaclav Klaus, his Estonian counterpart Toomas Hendrik Ilves and Polish Prime Minister Donald Tusk -- have all said they will not be attending the games opening.
However British Prime Minister Gordon Brown said in London that Britain, which will host the 2012 Olympics, would definitely not be boycotting any part of the Beijing games.
Others were more cautious. Austrian Foreign Minister Ursula Plassnik, arriving in Brdo, said a ceremony boycott could be "a strong signal," without committing to such a move.
She said on Austrian radio it was "important not to limit the question of the respect of human rights in China and Tibet exclusively to the question of a political presence at the opening ceremony of the Olympic Games."
Sarkozy's presidency to confirm EU position
French President Nicolas Sarkozy, whose country will assume the EU presidency from Slovenia in July, promised Thursday to consult with his European partners on a unified response and plan of action.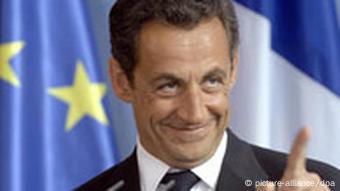 Sarkozy said the EU would have a position under his presidency
"At the time of the Olympics, I will be in the presidency of the European Union so I have to sound out and consult my fellow members to see whether or not we should boycott," Sarkozy said. "According to how the situation is looking at the time, I reserve the right to say whether or not I will attend the opening ceremony."
Sarkozy reiterated that none of the 27 EU nations had so far called for a joint boycott.