Former French President Nicolas Sarkozy on Thursday said preliminary charges that allege he accepted millions of euros in illegal funding for his 2007 election campaign lacked "any physical evidence."
"In the 24 hours of my detention I have tried with all my might to show that the serious corroborating evidence required to charge someone did not exist," Sarkozy said in his court statement, published in French newspaper Le Figaro.
Read more: Nicolas Sarkozy corruption charges reveal France's loose campaign finance practices
The former president was charged with corruption on Wednesday following an ongoing investigation that started in 2013, over claims that Libyan leader Moammar Gadhafi's regime secretly gave him €50 million ($61.7 million) for the 2007 campaign.
Sarkozy said the accusations had made his life a "living hell," since they were revealed in 2011 and had caused him to lose a bid for re-election in 2012.
"I've paid a heavy price for this affair. Put it this way: I lost the presidential election of 2012 by 1.5 percentage points. The controversy initiated by Gadhafi and his henchmen cost me that 1.5 percent," his statement said.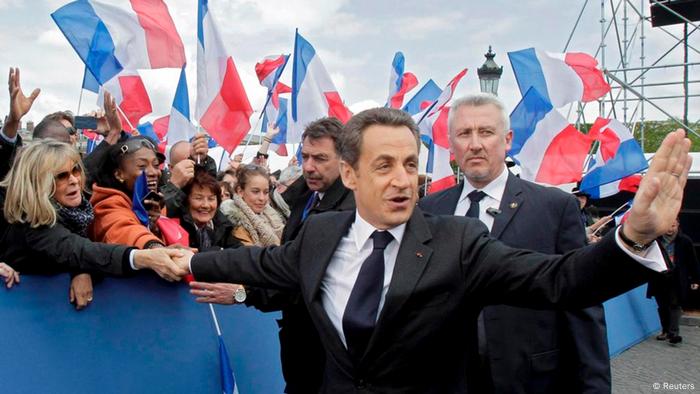 Sarkozy has blamed the Libyan funding allegations for ruining his 2012 presidential campaign
'Ghadafi loyalists' to blame
Sarkozy, who served as French president from 2007-2012, has vehemently denied allegations he received funding from the Libyan regime since the allegations came out.
In his court statement on Thursday, he told investigators that the accusations were the work of Ghadafi loyalists who were angry over France's leading role in operations that toppled Gadhafi's regime in 2011 and ultimately led to his death.
"I stand accused without any tangible evidence through comments made by Mr Gadhafi, his son, his nephew, his cousin, his spokesman, his former prime minister," Sarkozy said.
Sarkozy disputes Mediapart's report
In 2012, investigative news website Mediapart published what it said was a document that showed the Gaddafi regime had agreed to contribute about €50 million ($61.7 million) to Sarkozy's campaign.
Then in November 2016, ahead of the 2017 presidential election, Mediapart published a video that allegedly showed French-Lebanese businessman Ziad Takieddine saying he had delivered suitcases containing €5 million ($6.2 million) in cash to Sarkozy and his former chief of staff in 2007.
Sarkozy has sued Mediapart for publishing the 2012 document, and disputed Mediapart's 2016 report regarding Takieddine and his former chief of staff.
In his court statement on Thursday, Sarkozy said Takieddine could not have entered the ministry, as he claimed to have done, without specifying who he was going to see, and that his description of where the office of Sarkozy's chief of staff was located was inaccurate.
law/kl (AFP, AP, dpa, Reuters)
Every evening at 1830 UTC, DW's editors send out a selection of the day's hard news and quality feature journalism. You can sign up to receive it directly here.