Thousands of New Zealanders gathered in the North Island town of Rotorua on Saturday for a bid to stage the largest Maori war dance, or haka, in history.
More than 7,700 people took part in the performance of the haka, which was traditionally used on the battlefield by Maori tribes to inspire fear in their foes but has since been made famous by New Zealand's iconic All Blacks rugby team. The number of performers made up more than 10 percent of Rotorua's population of 65,280.
The dance requires participants to puff their cheeks, carry out the "pukana," or poking of tongues, and to chant "Ka Mate, Ka Mate," which means "I will die" in the Maori language. To break the record, participants had to perform for five consecutive minutes and to be electronically counted using bar-coded tickets.
Although the record has not yet been officially confirmed by the Guinness Book of Records, organizers said they were confident that they had broken the previous one of 4,028 participants set in 2014, which was organized by a group of French car salesmen.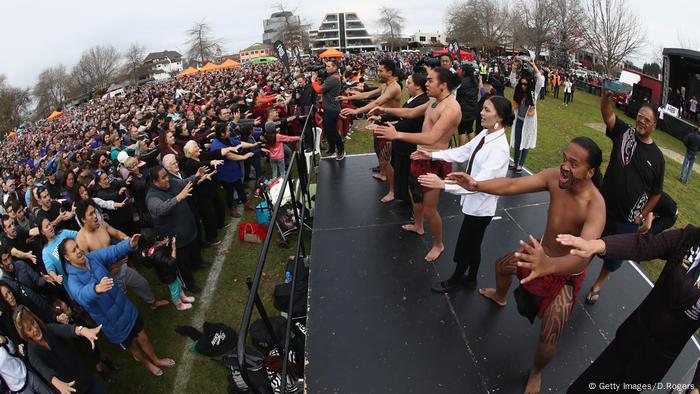 The haka was once used to demonstrate a Maori tribe's strength on the battlefield
Mostly friendly rivals
Relations between New Zealand and France have in the past been strained not only by two French Rugby World Cup victories over the All Blacks in 1999 and 2007, but also by the 1985 sinking of the Greenpeace boat "Rainbow Warrior" in Auckland Harbour by the French secret service.
Speaking ahead of Saturday's record attempt, Rotorua school principal Fred Whata told local news portal Stuff.co.nz: "The French beat us in the World Cup twice. They blew up our Rainbow Warrior. It's time to take back our haka. It's time for vengeance. It's time for revenge."
Whata also pointed out that the haka belonged to the Maori. "We need to own this," he said.
The All Blacks first performed the haka ahead of a rugby game in England in October 1888, when the New Zealand Native team, made up mostly of Maori members, played Surrey on a tour.
Read: Haka, tears, tributes mark rugby great Lomu's farewell