A US general in Kabul and a German general overseeing NATO's International Security Assistance Force (ISAF) from Europe have told NATO supreme commander General John Craddock of the United States that his order is illegal.
Craddock had sent a confidential document to NATO commanders saying he wanted troops in the 50,000-strong military alliance "to attack directly drug producers and facilities throughout Afghanistan." The documents told NATO troops to use lethal force against opium traders without requiring intelligence data to prove they were passing money to the Islamic fundamentalist Taliban or in rebellion against the Kabul government.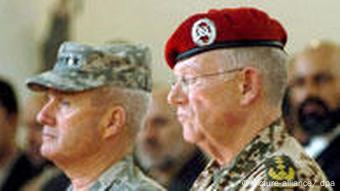 General Egon Ramms (r) responded as a "civilian in uniform," the Greens said
The Web site of the news magazine Der Spiegel reported that German General Egon Ramms, who heads a command overseeing ISAF from Brunssum, the Netherlands, and US General David McKiernan, commander of ISAF troops in Afghanistan, told Craddock the order was in breach of their rules of engagement and the laws of armed conflict.
NATO launches inquiry into leak
Their stance largely aligns with Berlin's concerns about "mission creep," a term for ISAF taking on new tasks that puts it at odds with ordinary Afghans whose goodwill is essential to armed peacekeepers.
German military sources in Berlin confirmed there was a dispute under way. On Thursday, NATO Secretary General Jaap de Hoop Scheffer launched an inquiry into the "unacceptable" leaking of confidential military documents on how to deal with Afghan drug traders.
NATO's supreme commander, General John Craddock
A NATO statement said that Craddock was tasked with implementing the pursuit of druglords and laboratories which are generating funds for the Taliban, and that he "issued general guidance as a follow-up" so that troops could begin operations.
"He has not, and never has, issued illegal orders," the NATO statement said.
Many German politicians, however, are demanding further explanation.
In the Friday edition of the Berliner Zeitung, SPD defense spokesman Rainer Arnold, described Craddock's order as "wrong" and said NATO should take a clear position, as otherwise, "farmers in their fields will soon be targeted."
ISAF committed to avoiding civilian deaths
European MP and CDU defense expert Karl von Wogau told the paper that Craddock's letter was "an illegal order" that endangered innocent civilians. And members of the opposition Green party have demanded that Craddock resign from his post. General Ramms, on the other hand, was praised by the Greens for acting as a "citizen in a NATO uniform."
Der Spiegel has also published extracts from a classified response from General McKiernan's office in Kabul that accuses Craddock of attempting to "seriously undermine the commitment ISAF has made to the Afghan people to restrain our use of force and avoid civilian casualties."
German Defense Minister Franz-Josef Jung has not commented directly on the debate. His spokesperson said only that this is an internal dispute within NATO and that the minister is not going to get involved.
A Defense Ministry spokesman told German news agency DPA that German forces provided logistics and intelligence support to Afghan security forces fighting drug gangs, but that German soldiers did not participate in lethal operations which might target drug dealers who were not demonstrably rebels.