Myanmar democracy leader Aung San Suu Kyi appeared at the gate of her house on Saturday waving and smiling after being officially released from house arrest, a detention that lasted 15 of the past 21 years.
"We must work together in unison," she told the sea of jubilant supporters, suggesting she has no intention of giving up her long fight for democracy in what is one of the world's oldest dictatorships.
Police cars arrived at Suu Kyi's compound about 5:30 p.m. local time and sent officials in to deliver her release papers.
Global rejoice
Her release has been welcomed by several world leaders, including German Chancellor Angela Merkel, UN Secretary General Ban Ki-moon, US President Barack Obama and British Prime Minister David Cameron.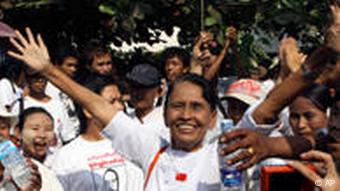 A supporter of Myanmar's detained opposition leader cheers
Merkel voiced her relief at Suu Kyi's release, saying she was "a symbol of the worldwide fight to apply human rights."
"Her non-violence and persistence have made her into a much-admired example," Merkel remarked, while also calling on Myanmar's ruling junta to release more than 2,000 other political prisoners in the country.
European Commission President Jose Manuel Barroso said he was "delighted" at Suu Kyi's release and also urged the "unconditional release" of all other political prisoners.
Earlier, crowds of Suu Kyi supporters had come to her lakeside home, where she has spent much of the past two decades under house arrest.
Armed police stood by as over a thousand people gathered near the crumbling mansion in the hope of catching a glimpse of the 65-year-old Nobel Peace Prize winner.
Hundreds more gathered at her party's headquarters, many wearing t-shirts bearing her image and the words: "We stand with Aung San Suu Kyi."
Release viewed as junta's attempt to tame critics
Suu Kyi is still seen as the biggest threat to the junta after almost five decades of military dictatorship in Myanmar, which was formerly known as Burma.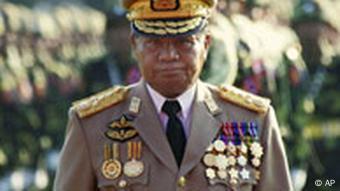 Myanmar junta leader Than Shwe has seen to it that Suu Kyi remained locked away
Some observers believe her release could come with restrictions to ensure she cannot threaten the generals or the military-backed government.
US-based Advocacy group Freedom Now, which serves as Suu Kyi's international counsel, welcomed her release, but said it was "virtually meaningless until the junta enters into an irreversible process of dialog resulting in national reconciliation between the junta, [Suu Kyi's] National League for Democracy and ethnic groups, and a restoration of democracy to [Myanmar]."
The group's head, Jared Genser, pointed out that Suu Kyi has been released three times previously "and nothing fundamental changed in the country."
Human rights watchdog Amnesty International, meanwhile, said Suu Kyi's freedom "is by no means a concession on the part of the authorities."
"The fact remains that the authorities should never have arrested her or the many other prisoners of conscience in Burma in the first place, locking them out of the political process," an Amnesty statement said.
Reactive move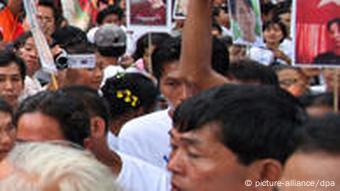 There is still a groundswell of support for Suu Kyi's National League for Democracy party
Suu Kyi's freedom is seen by international observers as an effort by the regime to dampen widespread condemnation of Sunday's election, the first since 1990 when the National League for Democracy won 392 of 485 parliamentary seats.
The military refused to relinquish power, however, and placed the charismatic and popular Suu Kyi under house arrest for "endangering the state."
Despite international condemnation and numerous calls for her release, Suu Kyi has been in prison or under house arrest for 15 years.
Her sentence was extended in 2009 after an American man swam uninvited across the lake next to her house and stayed for two nights. Critics say the charges were used to keep Suu Kyi's influence out of the 2010 election.
Western nations and pro-democracy activists have criticized the poll as anything but free and fair following widespread reports of intimidation and fraud.
Initial results show that the army-backed Union Solidarity and Development Party has already won a majority of the parliamentary seats available.
Author: Gabriel Borrud, Darren Mara (Reuters, AP)
Editor: Sean Sinico