Tied at two apiece, German striker Helmut Rahn took the pass from his midfielder as time wound down and shot it through a maze of Hungarian defenders into the goal, winning the country the World Cup less than a decade after the end of World War II.
Rahn's goal at the 1954 World Cup in Bern, Switzerland, was instantly etched into the collective memory of a devastated country. The "Miracle of Bern" not only secured Germany's first World Cup, it fed the country's resilience and restored a pride that had been corrupted by the Nazi regime.
The goal assured Rahn's place in the pantheon of German sports gods, making the news of his passing Thursday after a long illness all the more devastating for today's sporting heroes.
"Rahn was and is one of the last legends," said his colleague in Germany's soccer hall of fame, Franz Beckenbauer. "He shaped an entire generation."
The legend on the big screen
Rahn's death came two days before his 74th birthday and one day after a new feature film dedicated to the "Miracle of Bern," was shown in a sneak preview. The film, by German director Sönke Wortmann, was the first attempt to completely reconstruct the World Cup game using modern-day actors.
For the film, Wortmann auditioned 1,500 men who had to not only look similar to the members of the German national team, but have significant soccer experience as well. The game scenes needed to be filmed countless times before getting everything down right.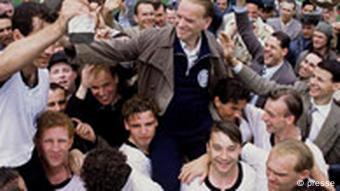 Das Wunder von Bern, Film von Sönke Wörtmann, Locarno 2003 The Mircale of Bern,
The film (photo) debuted to general approval at the Locarno Film Festival this year and pleased soccer and film critics alike.
"The Cardinal problem in soccer films has been solved, the actors are finally believable," said Phillip Köster, editor-in-chief of the soccer culture magazine "11 Freunde."
Rahn never saw film re-make
Rahn died before he could see himself immortalized on celluloid. Following the end of a successful soccer career in Germany in 1965, he opened up a used car business with his brother. He withdrew from the soccer scene, and stopped giving interviews years ago.
After the film's sneak preview Wednesday night, Wortmann and current national team coach Rudi Völler had dinner and were discussing how to lure Rahn out of his hometown of Essen for an upcoming preview when the news came.
Völler said he was "very saddened" and announced that his team will wear black armbands in their game against Italy next week.