During the three-week retrospective at the Museum of Modern Art, 20 films by Pedro Almodóvar will be shown. Among them will be "Talk to Her" (2002), which won Almodóvar an Oscar for best original screenplay, "All About My Mother" (1999) and "Women on the Verge of a Nervous Breakdown" (1988).
The latter, a comedy inspired by classic Hollywood films, represented the Spanish filmmaker's international breakthrough and also earned him his first Academy Award nomination, for best foreign language film.
"It's an honor for me to be back at MoMA," said Almodóvar. "I've always been happy at MoMA." He added that he was particularly pleased that the exhibition, which begins November 29, would allow young people to experience his early works.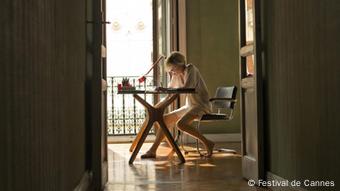 'Julieta' takes on a Catholic sect
'Globally influential'
With his production company El Deseo, which he founded with his brother in 1986, Almodóvar has made "some of the most globally influential films of the past 30 years," MoMA said in a statement.
Some of Almodóvar's newer films will also be included, including his most recent, "Julieta." The movie, based on the book "Runaway" by Canadian author Alice Munro, premiered this year at the Cannes Film Festival and opens in the US in December. The drama tells the story of a mother whose adult daughter joins a sect and breaks off contact.
In "Julieta," Almodóvar takes Catholic organization Opus Dei to task, which for him is the "largest and most dangerous sect in Spain," as he recently told German magazine "Focus."
Almodóvar began his film career in the 1980s in Madrid. In the wake of the Franco dictatorship, it was an anything-goes time when eccentricity was celebrated. To date, he remains Spain's most successful filmmaker.
suc, kbm / cmk (dpa, kna)