There are no exact figures for the number of children who are abducted in China each year. Some experts say the numbers are in the thousands, others say its tens of thousands. Guo Gangbao's son disappeared over 13 years ago. "My whole life changed on one September afternoon in 1997," said Guo. "My son was abducted that day around 5 pm. He was two and a half years old. A woman took him while he was playing with other children right in front of our house."
Guo has spent the past 12 years searching far and wide for his son. The child was probably kidnapped by traffickers and sold, either to a childless couple or to a criminal organization that uses children for panhandling. Such organizations are known to deliberately cripple the children to arouse sympathy and con more money out of people.
There is a large market especially for young boys, according to Wang Dawei from the People's Public Security University in Beijing. He said, "a young boy can be sold for somewhere between 50,000 and 100,000 yuan (around 11,000 euros). A girl can be sold for around 2,000 euros. Criminals make real money out of this."
Large market for young boys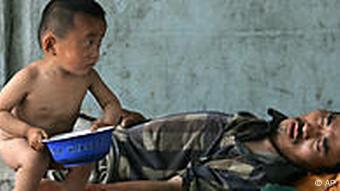 Many children who are kidnapped are sent on the streets to beg for money
Until now, parents like Guo Gangbao have had very little hope of ever getting their children back. Finding an abducted child in a country the size of China is next to impossible, especially because local police are not usually willing to cooperate with police forces from other provinces.
But now there is a ray of hope. A well-known social scientist and activist, Yu Jianrong, has started using his blog to post photos of begging children who might possibly be the victims of trafficking. Within a few weeks his project has turned into a huge campaign. People throughout the country have started photographing children begging on the streets and posting them on the net so that parents of abducted children might be able to identify them.
Yu is overwhelmed by the success of the project but said it may need to go in a different direction. "The project is financed and supported by private donations. But now we have to start considering restricting access to the database to protect the children."
Success stories
Photographs of abducted children have always been posted on the internet, but now parents have the opportunity to compare their pictures with those of the street children. Now, there are over 2,000 photos and videos posted on the site.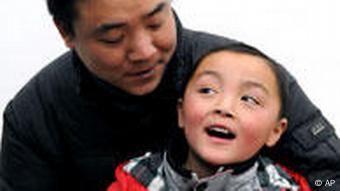 Peng Gaofeng holds his 6-year-old son Peng Wenle, who was lost for three years, in his arms after finding him
The campaign's success began with the story of six-year-old Peng Wenle, who was abducted in the southern city of Shenzhen three years ago. The child was identified in a picture posted on the internet platform sina.com and had been abducted in Jiangsu, 1,000 kilometers away from Wenle's home. The story raged like wildfire on the net and was also broadcast by various TV stations. Since then, other children have been identified in the blog's pictures.
Inspired by the story, many in China are now demanding the government be more active in fighting child trafficking. Wang empahsized the need to eliminate legislative loopholes. "People who buy children should be punished just as harshly as the traffickers themselves. But usually the buyers get off scot free as long as the children were not abused or if they were cooperative in returning the children. That has to change! Whoever pays money for an abducted child should also be prosecuted."
People are also talking about improving child protection, saying it should be illegal to use children for begging on the streets. Either way, many feel that help from the government is urgently required.
Author: Ruth Kirchner / sb
Editor:Grahame Lucas