Diplomats said the ministers will discuss the need for a cease-fire and take stock of humanitarian efforts in Lebanon during a working lunch in Brussels on Tuesday.
Some of the bloc's 25 member states are also expected to make informal commitments to contribute troops to the so-called "stabilization force," being thrashed out Monday at the United Nations in New York.
The ministers come to the table with near unanimity over the need for an immediate cease-fire between Israel and Hezbollah, with the notable exception of Britain.
"What we expect is an immediate cease-fire and the application of what was demanded ... that is the setting up of humanitarian corridors," one EU diplomat said on condition of anonymity ahead of the talks.
"Almost all the Europeans want a truce or a cease-fire."
Britain joins US in calling for UN force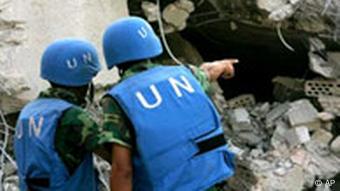 UN troops in Lebanon would be given peacekeeping powers
Britain, with its close ally the United States, has pushed instead for agreement at the United Nations to deploy an international force to secure the Israel-Lebanon border and ensure that any cease-fire is sustainable.
But Finnish Foreign Minister Erkki Tuomioja, whose country holds the EU presidency, said in Helsinki that agreement including Britain was possible.
"I expect the EU to be able to act with consensus including Great Britain," he told journalists. "There have also been discussions with the British prime minister," he said.
France for its part is seeking to seize the diplomatic initiative.
Foreign Minister Philippe Douste-Blazy said Monday that a "cease-fire is a priority and an urgent request. We need an immediate cease-fire and an end to the (Israeli) blockade."
An EU official noted: "There are always different sensitivities among member states, but this is something we have to live with and try to be as effective as possible."
Tuesday's meeting comes after Israel announced the suspension of air strikes for 48 hours after its war planes killed 52 civilians, about 30 of them children according to police, in the Lebanese village of Qana. The EU has condemned the attack.
In all, the Lebanese health ministry estimated that 750 people have been killed and more than 2,000 wounded in Lebanon since Israel launched its air, sea and land assault after Hezbollah seized two of its soldiers on July 12.
Hezbollah fighters meanwhile have fired between 1,700 and 1,900 rockets at northern Israel, killing some 18 civilians and wounding more than 300 people.
Cease-fire and aid to be discussed
A German government spokesman said Monday that the pause in air strikes -- called to investigate the Qana killings -- is "a positive sign" that a lasting cease-fire could be within reach.
During their talks, the ministers will be briefed by External Relations Commissioner Benita Ferrero-Waldner, who just returned from a trip to the region, and EU foreign policy chief Javier Solana.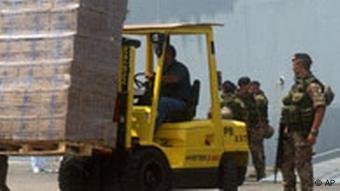 Israel has agreed safe passage for food and medicine
Aid efforts will also figure high on the agenda, following the European Commission's announcement last week of a further 40 million euros ($51 million) in humanitarian aid to help the victims.
"We would like to see the new member states committing more humanitarian aid. I think they will do, because there is a lot of pressure from public opinion," said Amadeu Altafaj, spokesman on EU aid issues.
As an aid provider, the bloc has influence with Lebanon and the Palestinians -- also up for discussion Tuesday -- but it holds little sway with Israel and is reluctant to compromise what small leverage it has.
The foreign ministers are not expected to draw up formal conclusions but want to show that the EU "remains active" on the crisis and that its members are "in phase," another EU diplomat said.
"It's obvious that we have to move very quickly now. What the European Union can do additionally in political terms is to keep pressure on the timetable ... add a sense of urgency," the diplomat said.