German gallery owner David Zwirner is at the top of the list of this year's edition of the magazine ArtReview's annual Power 100 ranking.
Zwirner runs galleries in London, New York and Hong Kong and represents more than 60 artists and estates including James Marshall, Wolfgang Tillmans, Yayoi Kusama as well as the estates of Anni Albers and Joan Mitchell.
His suggestion earlier this year that art fairs tax major galleries to subsidize the participation of smaller galleries did not fall on deaf ears: Art Basel announced such measures a few months later. "When Zwirner speaks, the art world listens," ArtReview wrote.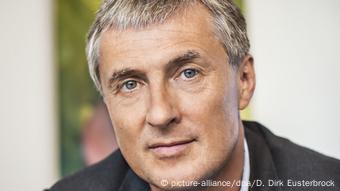 Gallery owner David Zwirner tops the ArtReview ranking
US artist Kerry James Marshall ranked second, a "painter whose work offers a radical rebuke to the whitewashing of art history," according to ArtReview. He is one of the most expensive living African-American artists: Rapper P. Diddy bought one of his works at an auction for more than $21 million (€18.4 million).
#MeToo, the movement against sexual harassment that went viral as a hashtag a year ago and has been on the world's radar ever since debuted this year in third place — the first time a movement has appeared on the Power 100 list at all.
"#MeToo changed the prevailing climate in which curators are appointed, prizes awarded and exhibitions framed," according to ArtReview, adding that while much more remains to be done, the movement's "most significant legacy may be to have pioneered a model by which power is made accountable to those excluded from it, whether by virtue of gender identity, ability, race, class or any number of other intersecting factors."
German video artist and art theorist Hito Steyerl, who topped the Power 100 list in 2017, now comes in fourth position, while Berlin-based Chinese artist and activist Ai Weiwei moved up from the 13th to the fifth spot in the ranking.
A panel of 30 international artists, curators and critics compiles the annual ranking of 100 individuals and organizations most influential in the art world over the previous 12 months.