During her first week in office, Angela Merkel has given political observers plenty to contemplate regarding the future direction of Germany's international relations. However, the verdict is still out as to whether or not she will set a different course from her predecessor.
"Relations with the smaller member states of the European Union will be intensified," Merkel, who took office Nov. 22, told newsweekly Focus. "And there will be a more intense transatlantic relationship," she said in an obvious reference to the difficult ties between Germany and the US under the former government.
"But that is not intended as a message against anyone," she added, lest analysts jump to conclusions.
Merkel's predecessor, Gerhard Schröder, had turned away from Germany's traditional ally, the US, electing to cultivate instead a close partnership with France. Critics said the focus on the Berlin-Paris axis -- particularly during the run-up to the Iraq war -- compromised ties with Washington, as well as dampened relations with some EU countries.
Therefore, many watched closely for a sign as Merkel made her first foreign trip as chancellor to Paris Wednesday in keeping with a precedent established by former chancellors.
"On my trip to Paris, it was very clear that I would like to maintain friendly relations with France in the tradition of earlier chancellors," she said, but also implied that she would not neglect the smaller EU states.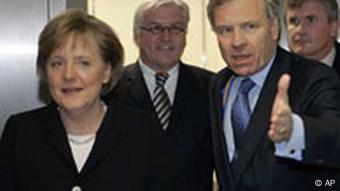 Merkel in Brussels with NATO head Jaap de Hoop Scheffer
On the United States, Merkel said bilateral political ties were anchored at NATO. "It was a very intentional move to visit NATO as well as the European institutions in Brussels," she said of her trip to the city Wednesday.

Reviving transatlantic relations


In a separate interview with the Bild am Sonntag newspaper, Foreign Minister Frank-Walter Steinmeier said he saw no need for a "fresh start" in transatlantic ties despite the lingering tension over German opposition to the US-led Iraq war.
"We are standing by our position (on Iraq) for good reasons," he said, noting that Merkel's new left-right coalition government had also ruled out sending German troops to the war-ravaged country. But the Social Democrat emphasized that Berlin and Washington had "the same interests and goals on the vast majority of issues."
"We support Washington in all its efforts so that peace in the Middle East has a chance," he said. "And we want to make some real progress together on climate protection. The disastrous hurricanes in the south of the United States have also made the American public stop and think."

Cosy with Condi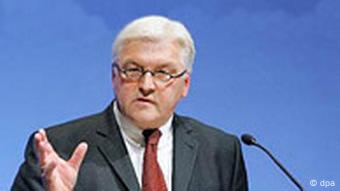 Frank-Walter Steinmeier
Steinmeier said he was looking forward to talks with US Secretary of State Condoleezza Rice, whom he met on several occasions while serving as former Chancellor Gerhard Schröder's chief of staff.
"She called and invited me to Washington right after I was named. We already worked closely together this week on the conflict with Iran," he said, referring to Tehran's controversial nuclear program.
He expressed concern in the interview about reports that CIA aircraft had allegedly touched down at German airports while transporting prisoners to secret prison camps in other countries. Several German officials are calling for Steinmeier to raise the issue in Washington.
Steinmeier's two-day US visit will start in New York Monday with a meeting with UN Secretary General Kofi Annan and leading representatives of Jewish organizations. He will meet Rice, Deputy Secretary of State Robert Zoellick and the White House national security adviser, Stephen Hadley, in Washington Tuesday.