The Kremlin's website said on Tuesday that Russian President Dmitry Medvedev had signed a decree firing Moscow Mayor Yury Luzkhov after 18 years on the job. The sacking comes after months of minor scandals and open mudslinging from both men.
The Kremlin said the 74-year-old Luzkhov was "dismissed from the position of Moscow mayor because he has lost the confidence of the Russian president."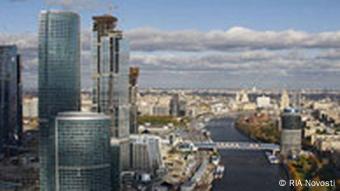 Moscow boomed under Luzhkov, but major problems remained
Luzkhov was first appointed in 1992 by Boris Yeltsin in the wake of the collapse of the Soviet Union. He oversaw the transformation of the Russian capital from a gray, sleepy city into a glitzy and gleaming economic powerhouse, funneling petrodollars into massive construction projects.
He had long faced allegations of corruption over the business activities of his wife, construction billionaire Yelena Baturina, and had been accused by preservationists of destroying important historic buildings in the city center. But a summer of missteps finally cost him his job.
A tough summer
The construction boom has left the city with some of the world's worst traffic and an overextended power grid. Luzhkov was criticized this July when repairs on the main highway leading to the city's international airport led to lengthy delays. He struck back over Medvedev's decision to suspend the construction of a highway through a forest outside the city.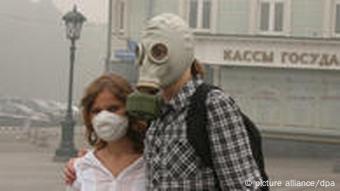 Residents suffered through the smoke without their mayor
In August he lost more points with Muscovites when he continued his vacation in Austria as forest and peat-bog fires filled the city with acrid smoke for weeks. The Kremlin publicly criticized his decision to stay away.
After his initial appointment, Luzhkov was reelected in 1996, 1999 and 2003. He was appointed for another four-year term by then-President Vladimir Putin after elections for regional governors and mayors of the country's biggest cities were scrapped. Now Luzhkov has become a victim of the Kremlin's shakeup of regional leaders.
Diminishing popularity
Luzhkov was known for his bellicose manner and his flat, working man's caps. His socially conservative rhetoric targeted gay pride parades, which his police regularly broke up. He riled progressives further when he allowed billboards with Stalin's image to be used in anniversary celebrations of the World War II victory this last May.
His popularity had dropped with just 36 percent of respondents to a September opinion poll by the independent Levada center saying he was doing a good job. That was down from 40 percent in July and 65 percent in 2001.
Luzhkov said on television on Monday that we would not step down voluntarily. That was not necessary in the end, and he has now been replaced by his deputy, Vladimir Resin.
Author: Holly Fox (AFP/AP/Reuters)
Editor: Michael Lawton