The Corporate Weekly and former New Nation reporter was found shot to death on the road to his home on Thursday morning. His killing brings the number of journalists murdered in South Sudan this year to seven. His mobile phone and money were not taken.
The murder also comes barely a week after President Salva Kiir issued a threat to kill journalists, before flying to peace talks in Addis Ababa.
"Freedom of the press does not mean you work against your country," Kiir told journalists Sunday. "If anybody among them [journalists] does not know that this country has killed people, we will demonstrate it one day, one time," he added.
Journalists react
At a meeting Friday following the funeral for Peter Julius Moi, representatives from media houses discussed how to respond to the killing. The decision was made to hold a 24-hour blackout of all media, beginning at 11 a.m. on Friday and continuing until 11 a.m. on Saturday.
"All the newspapers are not going to come out tomorrow and all the radio stations are not going to function for 24 hours," Alfred Taban, chairman of the Association for Media Development in South Sudan told DW. Taban thinks that the murder of Peter Moi is part of a pattern of journalists being killed in the country.
"We are not happy with this series of killings, and we are not going to keep quiet when journalists are being murdered like this," he added.
Oliver Modi, the head of the Union of Journalist of South Sudan, led the meeting where the blackout was agreed upon and believes that the intention of such killings is to intimidate journalists.
"It is not up to us to find out why he was killed," said Modi, "but the environment we are working in is not a peaceful environment. We have become the victims of circumstances."
A rally had been planned by the ruling party on Friday but did not take place. It is not known if this had anything to do with the media blackout.
"There was a meeting with the union [Union of Journalists of South Sudan] this morning, and I hope all media houses keep to the blackout and do not publish," said Victor Keri Wani, deputy editor of the Citizen newspaper, one of two newspapers shut down by the government earlier this month.
Not all media houses are abiding by the blackout. Philip Mabior, an editor for Eye Radio in Juba said that they decided not to stop broadcasting.
"We are not following the media blackout because we do not know anything about the killing. We do not know why he was killed," said Mabior adding that there was no joint statement issued and no discussion of the details of the blackout.
"We will keep broadcasting our programs," he said.
Violent past, violent present
South Sudan was on the brink of signing a peace accord with rebels to end a two-year civil war in the country. But President Kiir announced on Monday that his government needed a 15-day period to consider the terms before signing. Rebel leader Riek Machar signed the deal and the US stated Thursday that Kiir promised to sign the deal before the 15 days are up. Thousands of people have been killed in the conflict and around 600,000 have been driven from their homes.
Five journalists were killed in January when unidentified gunmen opened fire on an official convoy in South Sudan's western Bahr al Ghazal state. Six other people were also killed in the attack. In May gunmen shot dead a radio journalist in the war-torn eastern state of Jonglei.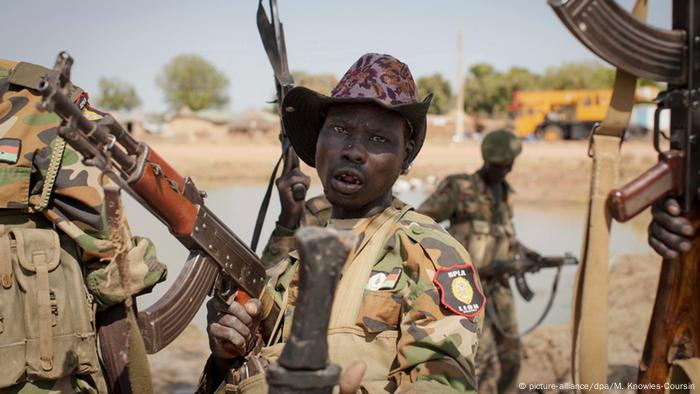 South Sudan has been experiencing a civil war since 2013.
"This is certainly a worrying trend," said Tom Rhodes, the East African representative for the Committee to Protect Journalists, "more journalists have been killed in South Sudan in 2015 than in Somalia."
Rhodes thinks that perhaps it is not the South Sudanese security forces who carry out such attacks but elements within its ranks who take the president's comments as an order.
"Even if the executive is not the one targeting the journalist I can easily see the security organs misusing his words as a preface to target the press further," Rhodes added.
South Sudan ranks as the 125th worst nation out of 180, according to international press freedom watchdog Reporters Without Borders (RSF).
"It is absolutely criminal for a president to threaten his country's journalists with death," RSF said in a statement. "Certain words can kill, especially when uttered by a president."