DW: Mr. Mayor, I have to assume that you are very proud to have convinced the DFB (German FA) to make Evian their home base for Euro 2016. Would that be fair?
Marc Francina: It wasn't me who convinced Germany to make it their base, it was Germany who chose Evian. Not just that, but we weren't even on the short list of around 60 towns suggested [by UEFA] for team base camps, but Germany chose Evian anyway, and in June of 2015 I agreed.
There was a lot of competition from other towns seeking to host one of the 24 teams that are in this year's European championship, and as you say, Evian wasn't even on that UEFA list. So what were the key points that convinced the DFB to choose Evian for their base?
What convinced Germany was the site. In terms of security, it is easy to secure. Don't forget, we hosted the G-8 summit in 2003. There is also the physical beauty of the setting, and you are just three hours or three hours and 40 minutes from Germany, traveling via Switzerland. But I think the main concern was security, and this can be done here without having to bring in a huge number of security personnel.
I know that the DFB approached Evian, you didn't actively apply to host the team, but it must bring Evian some benefits, otherwise you wouldn't have agreed to do it. So will this be a money maker for the town?
No, not at all, because this is costing me money. It's not for free (laughs). But seriously, it is important for us in terms of communication. Evian hosting Germany is important because as we know, a lot of Germans like to go on vacation in places like Portugal, Spain, North Africa, but they have never been here. So by hosting the German national team we expect to reap benefits in the future, not for the Town of Evian itself, not for the mayor's office, but for important sectors of the local economy. We are still benefitting from the after-effects of having hosted the G8 in 2003 and I believe that the benefits of hosting the German national team will continue for at least a decade.
I have to admit that before learning that I would be coming to Evian to cover Germany, I knew about the water, but didn't actually know where it was located. Was this just me, or is this something you've heard before?
Before we hosted the G8, most people didn't know where Evian was, just like you. When we hosted the G8, around 3,500 journalists came here. They discovered the bottled water that comes from here, but they also saw the town, which is very pretty. I know, I am the mayor, I wouldn't tell you anything else (laughs). But seriously, it is one of the prettiest towns in the departmente of Haute-Savoie and it is really clean, as you will confirm, so they discovered this during their stay.
The day Germany arrived at the Hotel Ermitage, their base here in Evian, they held an open training for the locals. You were there of course. But since then there has been almost no contact between the team and the local population. Is this a bit disappointing?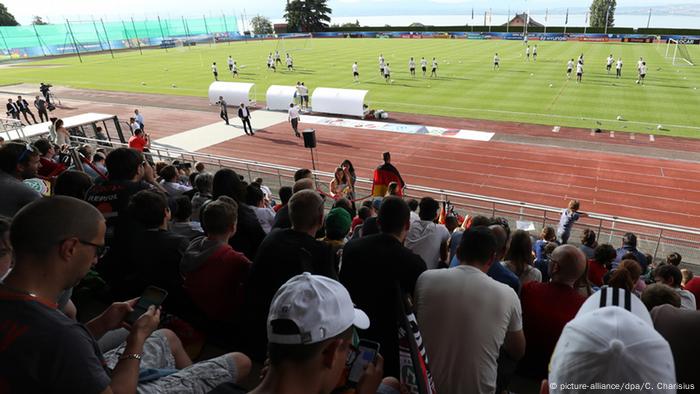 Germany held an open training attended by around 1,400 mainly young locals on the day they moved into their base at Evian
Well, let me tell you that if they want to come down into the old town of Evian, it's not a problem. I know that the coach has gone for a walk through the town, the players can do the same essentially anonymously. They are at the Ermitage but they can come down here whenever they want, that wouldn't bother anybody. That's the important thing.
It was a nice gesture when the players kicked a couple of dozen balls into the crowd for the young fans. That must have gone over well.
Of course it did! You know, Evian is a small town, there is a real feeling of togetherness here, and that's the advantage. An osmosis has developed between the local population and La Mannschaft and that's really great!
Let's talk about football for a moment. France have had to battle hard but they won both of their first games with late goals. This reminds me a bit of West German or German teams of the past who have sometimes struggled in the early stages of a tournament, but next thing you knew, they were in the final. Is this France team on its way to doing something similar at Euro 2016?
You know, it's just like in politics, the one who scores the goal wins. There is nothing else to be said, he scored the goal, he won. It's the same in politics; when you have been elected, then you have won. If you aren't elected, you have lost. It's as simple as that.
As you know, France could face Germany in the semifinals, there's no need to ask who you would be supporting…
Fifty percent! Fifty percent for France and fifty percent for Germany!
Really?
Yes, yes, yes! Of course!
Okay, then how about a prediction. Who would win? France or La Mannschaft?
First of all, I am not an avid football supporter. I don't know anything about football, I only found out that Germany won the World Cup when they visited me in the middle of June, 2015 (laughs). But I believe that Germany would have their chances, France would have their chances, but Germany could win.
Marc Francina has been the mayor of Evian-les-Bains since 1995 and is also a member of the National Assembly, where he represents the fifth district of the department of Haute-Savoie. He is a member the center-right party Les Republicains, led by former President Nicolas Sarkozy.
The interview was conducted by Chuck Penfold.