Hans-Peter Gossel, the mayor of thel town Warin, has been under police protection since receiving the threat a week ago on a right-wing site.
The post, which has since been taken off the site, said that Gossel "was available" as the next victim
Police believe the previous "victim" is an indirect reference to Alois Mannichl, the police chief of the southern Bavarian town of Passau who was stabbed in the stomach on his front porch Saturday, Dec. 13, by a suspected Neo-nazi who is still at large.
Mannichl was recently released from hospital after undergoing emergency surgery.
"We are treating this as a serious threat that refers directly to the attack on Mannichl," said a spokesperson from Schwerin police, who are protecting Gossel.
At this stage it is believe the threat against Gossel is connected with a dispute between the mayor and the Interim Partei Deutschland (IPD) party, which the German government says has links with right-wing extremism.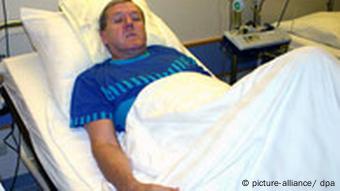 Alois Mannichl was stabbed by a suspected Neo-nazi
The IPD rejects the legitimacy of the Federal Republic of Germany.
Gossel has raised objections to the purchase of a house in central Warin and the setting up offices by the IPD in the town. He said the premises would be used as a training center.
"We have observed that the (IPD) party is trying to build up its structural presence in the country," a spokesperson for the interior minister of Mecklenburg-West Pomerania said Tuesday.
The party has also distributed leaflets in the German town of Parchim.
Gossel has said he would spend time away from Warin with friends over the coming days.