A man suspected of being the so-called "Marzipan Blackmailer," who brought fear to a number of schools in the northern German town of Kiel, was arrested in the early hours of Monday morning.
Police said they apprehended the 38-year-old in his apartment at 6.20 a.m. (0420 GMT/UTC). He is due to appear before magistrates the same day.
The man is suspected of placing poisoned marzipan hearts around a schoolyard in Kiel the previous week. He then allegedly attempted to blackmail the consumer retail chain Coop into paying him 3 million euros ($3.35 million) in the internet currency bitcoin, threatening to distribute more poisoned sweets at other schools if they refused.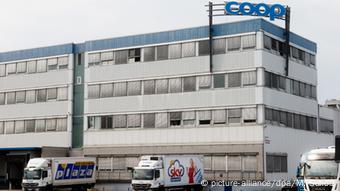 Coop's Schleswig-Holstein headquarters in Kiel
"We can now rule out any further threats for the time being," said a police spokesperson. However, the spokesperson said the public should be wary of any food lying around and warned strongly against consuming it.
Authorities are yet to release any further details, but are expected to do so throughout the day.
Poisoned marzipan hearts
On September 13th, the Reventlou school in Kiel received a message that poisoned marzipan had been placed around its school yard. The marzipan had been spiked with a substance that induced health problems, tests revealed, although experts said that the substance was not severe or life threatening.
On Friday, the blackmailer issued further threats, saying that explosive materials had been placed in three further schools around Kiel. The three schools in question were evacuated, allowing police, sniffer dogs and bomb experts to enter the premises. By the afternoon, children and staff were allowed to re-enter the school.
Despite police caution on Monday, schools in Kiel opened as planned.
dm/msh (dpa)