For years, south Broadway, a forlorn stretch of road south of Denver, was known as "Antique Mile." But in the past few years, neon signs with green crosses and cannabis plants have mixed in among the old wooden signs - and stores with names like "Colorado Harvest," "Sticky Buds" and "New Broadsterdam" have popped up.
"We want to market it as the 'Green Mile,'" says Tim Cullen, CEO of Colorado Harvest. "We have 17 marijuana dispensaries along this one mile stretch of South Broadway. That's more pot shops in one spot than anywhere else in the world."
The stores on the Green Mile along with the other 400-plus shops selling "green bud" throughout the state are filling Colorado's coffers with "greenbacks." In 2014, Colorado marijuana sales generated $76 million (67 million euros) in tax revenues, licenses and fees. Last year sales skyrocketed to nearly $1 billion , bringing in $135 million in tax revenue. That money will be a windfall for Colorado schools, infrastructure and even homeless services.
Tim Cullen's Colorado Harvest store on the Green Mile is nothing like the "head shops" of old, filled with longhaired hippies and the scent of patchouli. Customers have to ring a buzzer and show their identification at the door.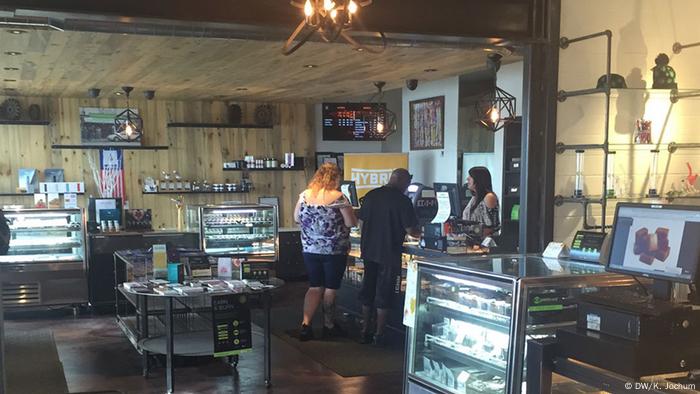 At shops like Colorado Harvest consumers can make informed decisions as to what marijuana to buy
Inside, it's like a high-end jewelry store: two sleek and spacious rooms adorned with industrial-style wrought iron chandeliers and hanging lamps, framed art and recovered barnwood paneling on the walls and ceilings. There are T-shirts and books for sale in the first room, where customers like Ryan, a data analyst with a shaved head wearing a button-down shirt and slacks, wait on black metal barstools for their one-on-one consultations. The air smells clean, with just a whiff of weed.
"I smoked before marijuana was legalized, but now it's easier, less stressful," he told DW. "There's more variety at the shops, and you get more insight into what does what for you. I understand more about it now."
Ryan goes over to one of the many glass display cases along the walls filled with cannabis snacks ,pipes and other paraphernalia. On top of the counter is an array of small plastic sniffer jars filled with different strains of marijuana, so customers can see and smell the buds before they buy. He's looking for a "creative" high - and decides to get 1/8 of an ounce (3.5 grams) of a sativa for $25. With state, local and excise taxes added, his bill comes to $30.50. That's a 22 percent markup, but Ryan says he doesn't mind.
"It's a lot, but it's not a deterrent," he told DW with a shrug. "I think the state and city are using the money for good things, so I'm not opposed to giving the state money in this case."
The first $40 million of state marijuana tax revenues goes to public schools, as designated in the Colorado ballot measure that legalized commercial sales from 2014. But municipalities that voted to allow marijuana shops have total discretion over the use of local tax dollars.
Homelessness on the rise
About a 20-minute drive from Denver, is the sprawling urban area of Aurora, the second largest city in the state. The glass-and-steel municipal building is just a few years old, laid out on a small park complex that includes a new library and history museum. Aurora took in $8 million in marijuana tax revenues in the first two years. They've designated $1.5 million of that for homeless services - and have budgeted the same amount for the next two years, for a total $4.5 million - about double their original budget for these services.
Nancy Sheffield, project manager for Neighborhood Services in Aurora, says the community first saw a jump after the 2008 housing bubble popped.
"A lot of people lost their jobs and had to foreclose on their homes," she says. "They moved into rental apartments or moved in with family."
But in 2015, Colorado boasted the fourth strongest economy in the US, behind California, Oregon and Texas. The real estate market has fueled that growth: The average home in Colorado cost $227,000 in 2007. Today, it's over $300,000. But Sheffield says there's a dearth of new homes and apartment buildings.
"We have zero-vacancy rates in some parts of the city," Sheffield told DW. "So rents are going through the roof, too. And many people can't afford them, even if they are working."
According to the annual State of Homelessness in America report, while overall homelessness in the US decreased by 2.3 percent in 2015, Colorado's homeless rates were up by 2.8 percent. There has been speculation that legalizing marijuana has been a factor in that increase.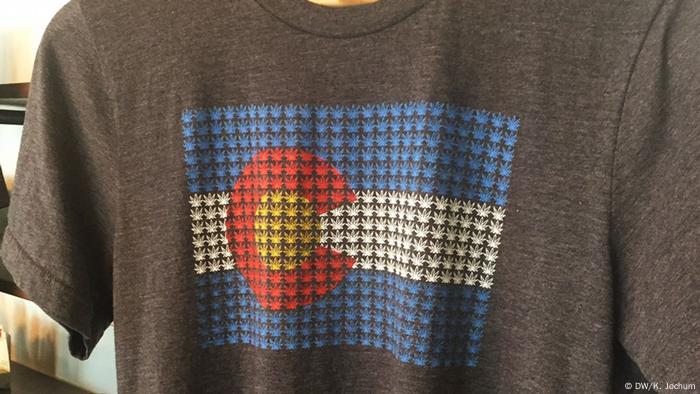 Colorado, whose flag looks like this but without the pot plants, was the first US state to make selling marijuana legal
But Sheffield says it's more likely there are more families coming to Colorado because they think they can find work in the booming economy.
"You'll see the chronic homeless, who are living on the streets," she says. "They become more visible in parks, busy corridors, panhandling. But you don't necessarily see the children, with their parent or parents, living in the hotels or motels or couch-surfing with cousins or brothers and sisters."
Marijuana money is a 'game changer'
The Colfax Community Network is helping those "invisible homeless" - and has been thrown a lifeline from Aurora's marijuana tax money. It's housed on the second floor of a church, in a rundown neighborhood of single-family homes on the other side of Aurora. Executive Director Megan Vizina says the $220,000 they will be getting from the city is almost their current annual budget.
"Last year we only got about $1,000 from the city for our holiday party," she says. "All our other funds came from grants and donations. So this is a game changer."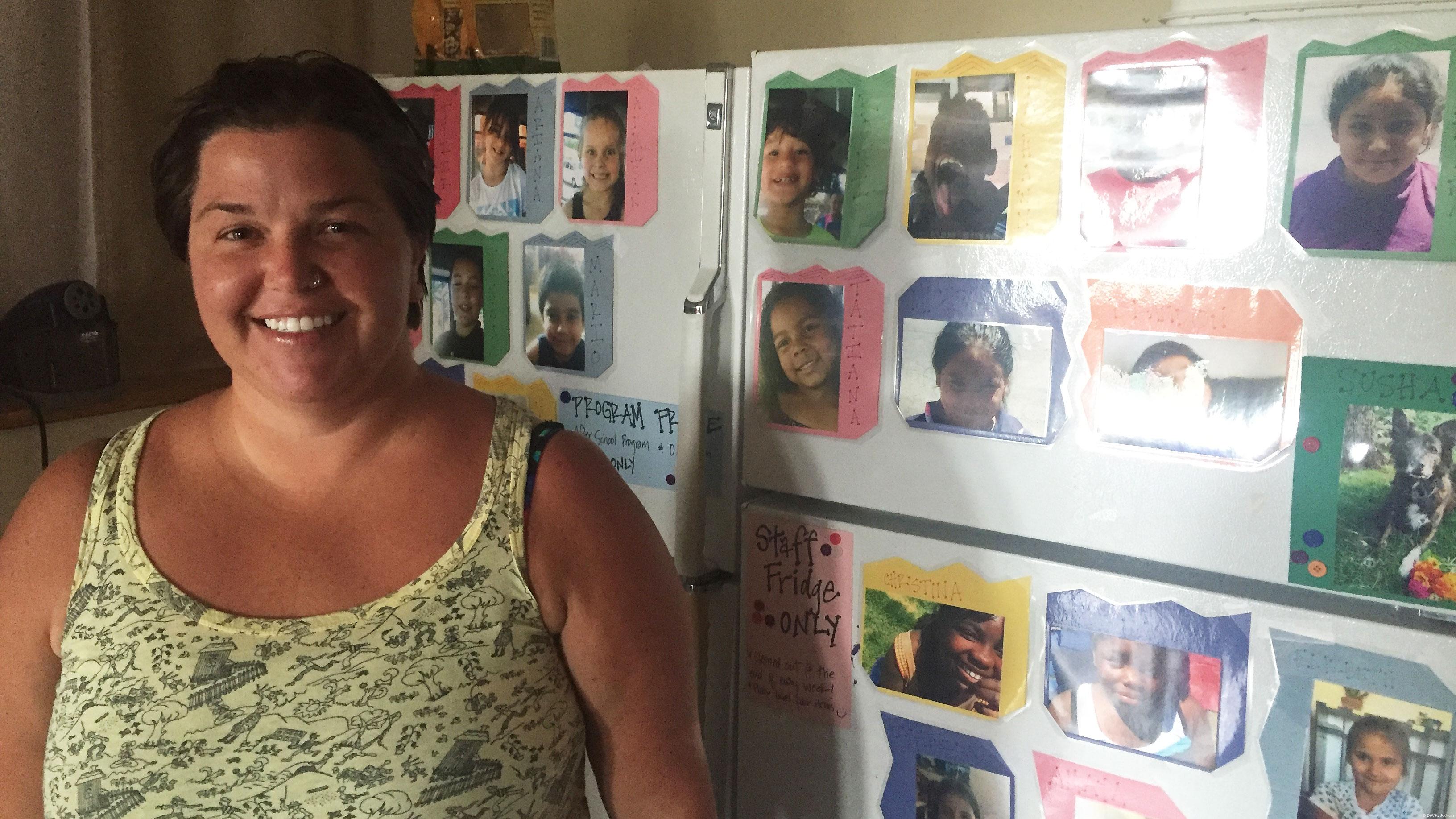 Vizina's organization has been able to put marijuana tax money to good use
Vizina's arms are slightly sunburned and her short brown hair was wet. She had spent the day at the pool with the kids from Colfax's summer program. The center has a large common room with a huge sofa in a carpeted corner on one side, and tables and chairs on the other. In the kitchen nook, photos of 28 beaming elementary school kids are taped to the refrigerators. Vizina says it's a sacred spot for the kids: "If you are living in a shelter or a car, you don't have a fridge of your own," Vizina told DW. "So the fact that our kids 'live' on our fridge, they all love it."
During the school year, they pick kids up from schools across the city, bring them to the center for homework, snacks and entertainment, and then bring them back home - to friends' homes, to expensive pay-by-the-week motels or to homeless shelters. In the mornings, the center helps homeless adults apply for housing, benefits, jobs or counseling. There's a place to lie down for those who've been walking the streets all night. Twice a week staffers drive to hotels and public spaces, handing out food, hygienic items, safe sex kits and even safe drug using kits. Vizina says she and her four full-time staffers offered services to about 40,000 people last year.
"With the money that the city gave us, we'll be able to continue all of these services and expand some of them," she told DW. "Right now, we just do outreach Tuesday and Thursday afternoons. But we miss people. We'd love to do it in the evening. We'd love to go further."
But Vizina says more importantly, in much the same way that legalizing marijuana brought its usage out of the shadows, Aurora's decision to budget some of those tax revenues to homeless services has started a dialogue about the issue. She says in a way, that's almost better than the money.