Marco Reus will play no part in Germany's friendly game against Russia in Leipzig, coach Joachim Löw has confirmed.
Reus suffered a bruised foot in Borussia Dortmund's victory over Bayern Munich and will sit out the game, but could feature in Germany's potentially crucial Nations League game against the Netherlands on Monday.
"Marco Reus will not be able to play tomorrow," Löw told reporters on Wednesday. "He arrived with a foot injury from the game against Bayern. He will not train tonight and we will have to see if it works for Monday."
Chance for youth
Reus' absence appears to be a precaution with the more important test to come, meaning Löw could give youth a chance to shine against Russia.
But even with Leroy Sane, Serge Gnabry and Timo Werner all expected to start, Löw warned that the team won't evolve overnight.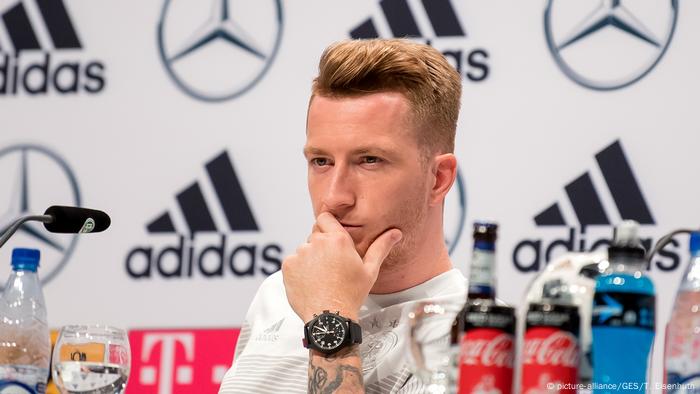 Reus won't feature against Russia but could still play against the Netherlands on Monday.
"Building a new team is not something that happens out of nothing. It is a process," said Löw, who has dropped Jerome Boateng for this round of fixtures. "The rebuilding phase has started and the process is ongoing."
"Every successful team will have a good mix between young and more experienced players," he said, when asked about out-of-form Thomas Müller, another World Cup winner, who was part of the squad.
"Young players need some players to guide them in difficult moments. We do not have too many players who have this experience."
<div class="opinary-widget-embed" data-poll="do-you-think-germany-coach-joachim-lw-sh" data-customer="deutschewelleeng"></div> <script async type="text/javascript" src="//widgets.opinary.com/embed.js"></script>
Relegation 'not end of the world'
Germany could be relegated from their Nations League group if results don't go their way when France play the Netherlands followed by Germany's game against the Dutch — but that's not a scenario that overly concerns Löw.
"We don't have things in our own hands anymore in order to stay in the league," admitted Löw, after Germany managed just one point from their first three games.
"Perhaps we made the mistake of putting too much emphasis on the Nations League — it would not be the end of the world if we have to play in a lower division in 2020."
mds/pfd (Reuters, AFP)