Interior Minister Wolfgang Schäuble gathered together Muslim groups in Berlin for a second conference in the space of nine months to tackle growing alienation between Germans and Muslim immigrants.

Schäuble, a conservative, insisted that progress had been made "on many points" and said open and frank discussions were the only way forward to ease the integration of Muslims in German society.

"We all agreed that this process is the right one and that it has made progress. It was a step in the right direction," Schäuble told journalists after the meeting.

But the head of the Central Council of Muslims, Ayyub Axel Köhler, said: "We cannot go on like this, debating without any aim."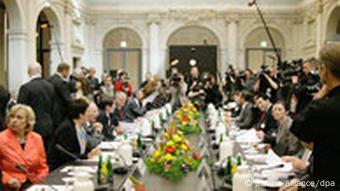 Sitting at the same table at least
"There must be an evaluation of this whole process," he said. "We need to set concrete goals and we need to lay out a roadmap."
The meeting with Schäuble was a review of the first seven months of negotiations in working parties on plans for Islam classes for Muslims in German public schools and mosque demands for legal rights similar to churches. No agreements have been reached yet.

Who represents whom

Much of the debate ahead of the meeting focused on the role of the recently formed Muslim Coordination Council, a move which Interior Minister Schäuble has welcomed.

The council is an umbrella group comprising the Central Council of Muslims and three other organizations: the Turkish Islamic Union for Religious Affairs, the Islamic Council and the Association of Islamic Cultural Centers.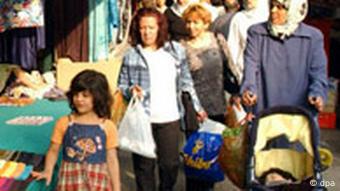 Nearly three and a half million Muslims live in Germany
The groups have said they would try to find a joint stance on issues such as immigration, integration and extremism, while remaining independent.

But since it only represents the 300,000 people who belong to Islamic organizations, Schäuble says its ability to speak for the 3.4 million Muslims living in Germany is limited.

Of Germany's Muslims, about 2.4 million are Turks or people of Turkish descent, many of them children and grandchildren of guest workers invited to Germany in the 1960s and 1970s. Another 200,000 Muslims in Germany come from North Africa.

There are also about 55,000 Afghans in the community, 60,000 Iranians and 160,000 Bosnian Muslims, according to official estimates.
Germany's Muslim community is overwhelmingly Sunni.


Divisions among Muslims
There were some divisions between religious and secular Muslims which came to light during the meeting, in particular when it came to women's dress and the mixing of the sexes.
The government and secularists have rejected complaints by conservative Muslim families about girls wearing swimsuits in the presence of boys while being taught swimming at German schools.
Schäuble said it was the "rule" in Germany that girls and boys were educated in school together. He said he had heard the objections to mixed sports, adding: "We will continue to be talking about this."

The first meeting of the groups with the government last September was overshadowed by a row over the staging in Berlin of a Mozart opera, "Idomeneo," which featured the severed head of the Prophet Mohammed in one scene.

The opera was pulled from the schedule over fears of violent protests by Islamic radicals, but was staged later amid tight security.