It was the era of dot com euphoria and internet hype. Technological advancement was proceeding at a new record pace and few German companies were in a better position to take advantage of this new trend than Mannesmann - a Dusseldorf-based firm that originally made a name for itself by producing seamless steel tubes.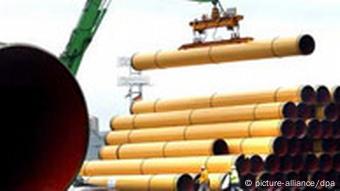 Mannesmann found initial success in making seamless steel tubes
In May 1999, Klaus Esser was given the top job at Mannesmann. Esser had long been pushing for a reorientation of the company from an industrial firm to a service and telecommunications provider.
At the time, Mannesmann held controlling interest in D2, Germany's second largest cellular network, which was outperforming all of the company's other segments and Esser planned to broaden that success by branching out across Europe.
Expansion plans
In October 1999 he set his sights on British mobile phone operator Orange, and that's where this story took a dramatic turn that ended with most expensive takeover in economic history. Rumors quickly spread that Mannesmann itself could be ripe for the plucking and the world's largest mobile operator, Vodafone Airtouch, which already owned a 34.5 percent stake in Mannesmann, sent out some feelers.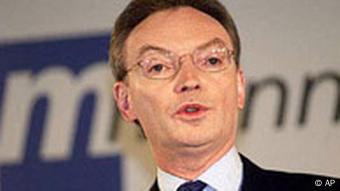 Esser was determined to make Mannesmann into a more powerful company
The first offer came from Vodafone on November 14 of that year. It amounted to an estimated 100 billion euros. Klaus Esser refused, and called the offer completely inadequate, and turned to his shareholders for support.
Esser's counterpart at Vodafone, CEO Chris Ghent, pushed the offer higher and higher. It quickly rose to almost 125 billion euros – a record sum at the time. In Germany analysts quickly began talking about a hostile takeover attempt -a term Chris Ghent tried to avoid, saying he always wanted the acquisition to be based on mutual agreement.
Ghent argued that Esser seemed determined to refuse every opportunity to negotiate, leaving Vodafone no choice but to approach Mannesmann shareholders directly.
War of words
This is where things began to heat up. After several rounds of corporate mudslinging, Esser traveled to London to the historic Savoy Hotel – which happened to be the very same place where Chris Ghent went public with his takeover plan – and gave a presentation to analysts.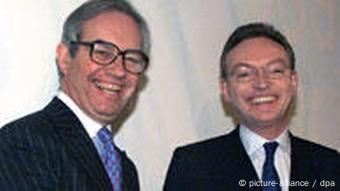 Chris Gent always claimed he never wanted the process to become hostile
Speaking to journalists outside the hotel, Esser said that he did not feel like he had entered the lion's den in London, and that he was quite comfortable in his current situation.
Esser told international stock holders that the combined Mannesmann D2/Orange operation was forecast to grow by 30 percent each year through 2003.
He claimed that such growth prospects and "simple mathematics" made it clear that Mannesmann shareholders should stand by his team and reject the Vodafone offer.
Esser based this growth projections on the technical supremacy of Mannesmann over Vodafone and the fact that while his British competitor was only in it for the mobile services, Mannesmann was planning a broader strategy that involved landlines, the cellular network and the internet.
Fading hope
At the same time, behind-the-scenes negotiations with third-parties were gaining momentum. Esser went to French media and telecommunications giant Vivendi and internet provider AOL Europe.
But Vodafone was courting Vivendi as well. On January 30, 2000 the British and French companies announced they would form a joint internet company once Vodafone managed to amass 50 percent of Mannesmann shares.
Esser saw that his chances of resisting Vodafone's bid were fading. The clincher came when Mannesmann's largest shareholder, Hong Kong-based company Hutchison Whampoa, urged him to agree accept Vodafone's offer.
The largest hostile takeover in history
On February 3, 2000 Klaus Esser and Chris Ghent buried the hatchet and effectively sealed the deal with handshake at Mannesmann headquarters in Dusseldorf.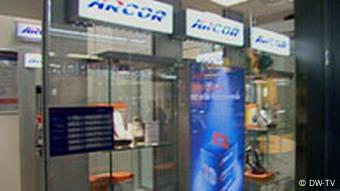 Vodafone originally promised to keep the Mannesmann name alive through Arcor
Speaking to the press, Esser said that he simply "saw that a majority of our shareholders felt joining up with Vodafone Airtouch would be the financially sound thing to do. So we did what all good management does, we went with the wishes of the majority and created this partnership."
On February 4, 2000 the Mannesmann supervisory board approved the takeover. They also authorized millions of euros in bonuses for Mannesmann executives. Esser alone received 30 million euros - a figure that triggered breach-of-trust allegations and led years of legal wrangling that ended in a multi-million euro settlement.
That was only small change compared to the total cost of the actual takeover process, however. The two-and-half months of corporate maneuvering saw Vodafone and Mannesmann spend half a billion euros on legal fees and publicity campaigns alone. And when all the papers were signed, Vodafone had paid 190 billion euros for Mannesmann, making it the most expensive hostile takeover in history.
Author: Klaus Ulrich (mrm)
Editor: Sam Edmonds