Authoritarian Belarusian President Alexander Lukashenko has ordered the statements of all politicians to be reviewed after state authorities obtained confessions from suspects in Monday's deadly metro bombing in the Belarusian capital, Minsk.
"We are looking for perpetrators and masterminds," said Lukashenko on state television. "These characters from the so-called 'fifth column' may lay their cards on the table and show who the mastermind is."
Lukashenko's comments have raised speculation that Minsk may initiate a crackdown on pro-democracy groups, who remain splintered in the aftermath of a violent post-election crackdown last December.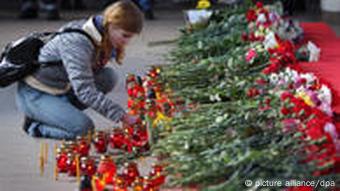 Mourners left flowers at the entrance to the metro station
Lukashenko has ordered Belarusian security forces to continue their investigation of the bombings without delay.
"Detain and question," he said. "Don't pay attention to any kind of democracy and the wails and groans of the pathetic Westerners."
"We should not relax," Lukashenko added. "There should be a cleansing on all fronts."
Confessions
According to Lukashenko, the crime was solved at 5 a.m. Wednesday when the suspects confessed to the Belarusian state security forces, still known by the old Soviet acronym KGB.
The Belarusian President said the suspects also confessed to previous bombings in the western city of Vitebsk in 2005 as well as Minsk in 2008.
State authorities had previously accused the Belarusian national fringe of carrying out those attacks. The UN Security Council on Wednesday condemned the bombing, calling it "an apparent terrorist attack."
On Tuesday, KGB head Vadim Zaitsev had said that police were searching for a suspect of "non-Slavic" appearance, "up to 27 years old and well built." He added that the man could have been hired.
It remains unclear if any of the detained suspects fit that description.
Deadly attack
The explosion hit one of Minsk's busiest metro stations during evening rush hour Monday. Twelve people have been confirmed dead and more than 200 were hospitalized, the worst with limbs torn off.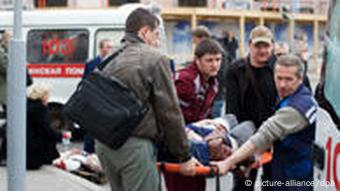 The blast hit a busy metro station during rush hour
The bomb, with an explosive force of around five kilograms (11 pounds) of TNT and packed with ball bearings, was hidden under a bench on the platform of the metro station, according to Interior Minister Anatoly Kuleshov.
Authorities said the bomb was likely detonated by remote control.
Police increased security in the capital on Tuesday, carrying out spot checks on roads and at rail stations and airports.
Authors: Darren Mara, Andrew Bowen, Spencer Kimball (Reuters, AFP, dpa)
Editor: Michael Lawton