In his acceptance speech, Thomas Bach, newly elected president of the IOC, returned to his own memories of winning Olympic gold, and said that in some ways, his election reminded him of his team's battle to win during the 1976 summer Olympics in Montreal. According to Bach, the team fought hard and won, but he remained friends with his competitors, indicating that this would be his model for the future. In his final remarks, Bach asked that all his friends and colleagues at the IOC draw on that spirit again, making sure that, as he put it, "this great universal orchestra, the IOC, play together in harmony for a bright future."
Bach's own path to success seems to have been similarly gilded. As a young fencer, Thomas Bach learned early on the two core competences for his later success as a sports functionary: patience and a keen sense of the right moment to strike.
He was the first to put forward his candidacy in the race for the highest job the sports world has to offer, the President of the International Olympic Committee (IOC). For a long time he kept up his defense, watched his opponents and then struck when the moment was right.
Many supporters and the best of chances
For about two years, observers have been speculating whether and when Bach - who was Vice-President of the IOC - would put his name in the hat to succeed his long-time boss Jacques Rogge.
"I think that my considerable experience and the trust that I've built up and my passion as an athlete and gold medal winner might convince a few people," Bach said.
Currently, Bach is at the head of the German Olympic Sports Confederation (DOSB), a position he must give up as IOC President.
In 2010 Bach got 80 out of 94 votes in his third election as IOC Vice-President. There was no other candidate, lots of praise and some read this now as an indication of his potential as future president. Bach said the reason behind the early announcement of his candidacy this time was to be open with his colleagues, although some wondered why he decided on such a long election campaign prior to the vote on September 10.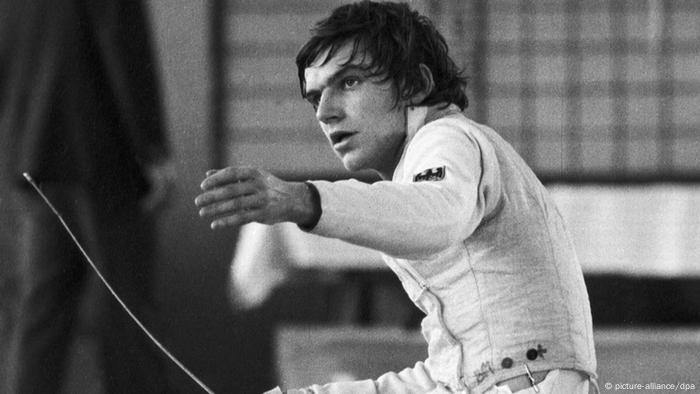 As a young fencer, Bach won Olympic gold and the world championship
Allegations of corruption
One of his strongest critics is journalist and blogger Jens Weinreich. He thinks he knows very well why Bach came out so early with his ambitions.
"Bach really wanted to be the first in the ring, to jump in before the other candidates," Weinreich writes in his blog. The journalist also repeatedly accused Bach of using his honorary post to profit professionally.
However, Bach has dismissed allegations that he'd be profiting as a lawyer from his IOC commitments. He did say however that there were "areas where personal friendships that might be a result of the honorary work overlap with the work as a lawyer." So some doubts remain.
According to Germany's "Der Spiegel" magazine, Bach had a consultancy contract with Siemens for around 200,000 euros and allegedly had been trying to use his IOC connections to win Kuwait as a large-scale investor for a Siemens project.
Such accusations have so far never really hurt Bach. His CV is flawless. He was born in 1953 in Würzburg and was already a promising fencer at the age of five. He soon made it into the national team and, when he was 22, won the gold medal in the team competition in 1976. A year later, the team won the world championship. But, all along, Bach was always working on his post-fencing career. He studied law and took on the job as the athletes' spokesman at the 1981 Olympic congress.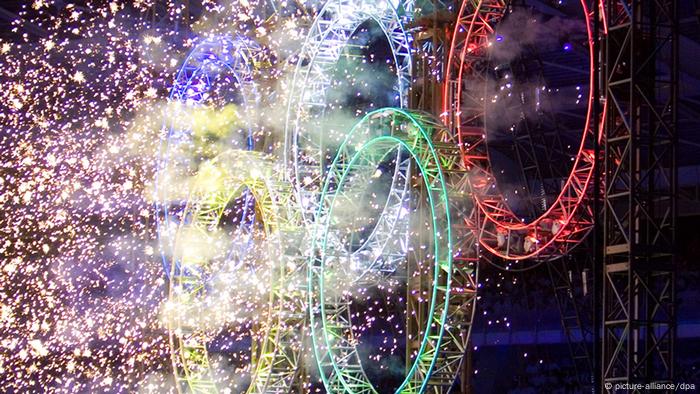 There are plenty of challenges and reforms waiting for Thomas Bach
Samaranch protégé
Bach later worked for Adidas, learning the ropes of sport lobbying and building his network of contacts. He speaks English, French and Spanish and was supported by former IOC President Juan Antonio Samaranch. Bach got voted into the IOC when he was just 37 years old. Not long after, he made it to the organization's executive committee. Finally, in 2000 he became Vice President of what is one of the world's most powerful sports bodies.
Bach worked reliably at the side of current IOC President Jacques Rogge, waiting patiently for his opportunity. During what was possibly the IOC's most severe crisis, the corruption scandal around the 2002 Salt Lake City games, Bach got a lot of praise for his crisis management.
Rogge is a good friend of Bach and is likely to have thanked him for his loyalty by putting in a good word for him during the election campaign. Rogge has said that Bach is an important pillar of the global Olympic idea and has everything a President needs.
Bach is also said to have another powerful ally, the Kuwaiti Sheikh Ahmad al-Sabah, president of the powerful Association of National Olympic Committees and considered an influential figure in Olympic circles. Just last week, al-Sabah was celebrated at Tokyo's victory party after his lobbying reportedly helped them win the right to host the 2020 games. He also backed wrestling's successful return to the fold. Even before the results were announced, the Sheikh had admitted to not just backing, but lobbying for Bach, in an apparent breach of IOC protocol; but that, and a documentary broadcast in Germany containing allegations about Bach's character and conduct, failed to derail the favorite from his target.
Slow reform pace
Despite the support from the Rogge and al-Sabah, it was still Bach's task to convince the almost 100 IOC members that he was the right man for the presidency. "Unity in diversity" was his election slogan, suggesting cautious reforms. Bach knows that announcing all too radical upheaval could have cost him votes. And his central goal to protect the autonomy of the sport from the influence of politicians should sit well with his fellow IOC members. At the moment, tougher laws on doping and corruption are not wanted by most members of the IOC.
The challenges awaiting Bach are enormous. One reform will have to look at which new sports should be included in the Olympic roster while traditional disciplines like wrestling have just been readmitted into the fold. The costs for infrastructure and security at the games are getting ever higher, which in turn leads to cities being hesitant to apply.
The high number of recent doping cases has damaged the very image the IOC is trying to sell: the fascination with sporting competition and top athletes. Thomas Bach will have to provide ideas on how to tackle those challenges; the time for defensive patience is over, and now people are looking to Bach to take the pledges in his election campaign forward and shore up the IOC position well in to the 21st century, playing harmoniously alongside his colleagues for the next eight years at least.