Romy Schneider was only 17 when she played the title role in "Sissi", a romantic movie about the young Bavarian princess that became the empress of Austria. The film was Schneider's breakthrough -- it turned the Austrian-born actress into an instant 1950s film diva.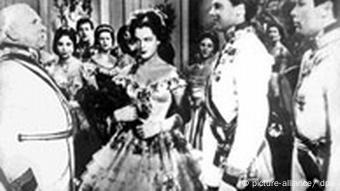 She didn't want to be a princess all her life
"Yes, I loved this role back then," Schneider said. "I was the princess, not just in front of the camera. I was always a princess. But one day I simply did not want to be a princess anymore."

Despite the success, Schneider was desperate to get away from the naive and innocent characters that she was made to play in post-war Germany.

"Sissi sticks to me like oatmeal," she said.

A national scandal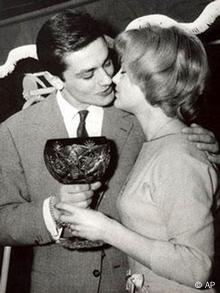 Romy Schneider and Alain Delon announced their engagement in 1959
Schneider fled to dazzling Paris to be with her French lover and fellow actor Alain Delon, creating a national scandal. The couple got engaged in 1959.

Paris became Schneider's artistic base and she became the muse of the great directors of the time including Luchino Visconti, Orson Welles, Otto Preminger and Claude Sautet.

She completely shed the image of the little naive girl and took on challenging, sexy and provocative roles. In the 1960s and 1970s Schneider filmed internationally successful movies such as the thriller "Swimming Pool," which added another dimension to her on-screen persona.

"I tried to escape from this straitjacket, from this little narrow world," Schneider said. "I wanted to get away from this routine I had in Germany. Paris was a new world, a new life. I needed this freedom and I made the most of it."

A metamorphosis

Film critics and movie buffs are to this day fascinated by Schneider's artistic transformation.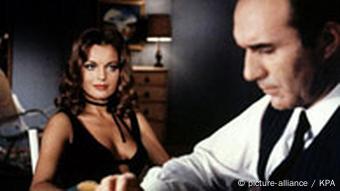 The movies she made in France were different from the ones she made in Germany
"You have to admire her ability to change," film critic Martin Hamdorf told DW-WORLD.DE. "When you know the role she played in the movies about Sissi -- that good girl, the identification figure for the German middle class -- the break in her career is unbelievable."

But for her to make the transformation, it was essential to leave Germany and become part of a different cinematic tradition.
The German film industry in the 1950s was dominated by the genre of Heimatfilm (homeland movie) -- a unique product of post-war mentality, set in sentimentalized and idealized rural settings and based on predictable plots and simplistic morality.

"I don't think she would've had a chance to develop further in Germany," Hamdorf said. "The German movie landscape at the time was simply sad and dreary. It was, if you want to be mean about it, the continuation of Nazi entertainment films, but done badly."

Schneider won several awards, including the prize of the French Film academy and the German film award in 1977. Her films included the macabre "Le trio infernal" with Michel Piccoli from 1974 and the chilling "Garde à vue" in 1981.

Turbulent private life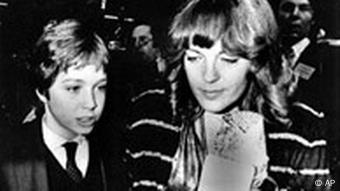 Schneider's son died in 1981
Schneider dominated French films throughout the 70s, but her on-screen success was overshadowed by her turbulent private life. After she was dumped by her great love Alain Delon, she married German director Harry Meyen. But Meyen committed suicide, and their son died in an accident in 1981.

Schneider became increasingly addicted to alcohol and tranquilizers. According to her biographers she was torn between her fame, her will to succeed and her longing for a normal life.

Romy Schneider was found dead in her apartment in Paris on May 29, 1982, at the age of 43. It was suggested that she had committed suicide by taking a lethal cocktail of alcohol and sleeping pills. However, no post-mortem examination was carried out. Schneider was declared to have died from heart failure.