Members of a group calling itself Stop Islamisation of Europe (SIOE) had gathered Friday outside the Harrow Central Mosque in the northwest of London to remember the attacks that took place on the World Trade Center on Sept. 11, 2001. The group had also been protesting the construction of the five-storey Harrow mosque.
A counter-protest by anti-fascist groups had also been planned for outside the mosque by a group calling itself Unite Against Fascism.
Police said the two groups, said to have numbered more than 1,000, began taunting each other and that, in the ensuing violence, bricks and bottles were thrown at officers.
Police also said hundreds of masked youths had broken into a cordoned-off area, prompting police to begin making arrests. Reports said that as many as 10 people were taken into custody.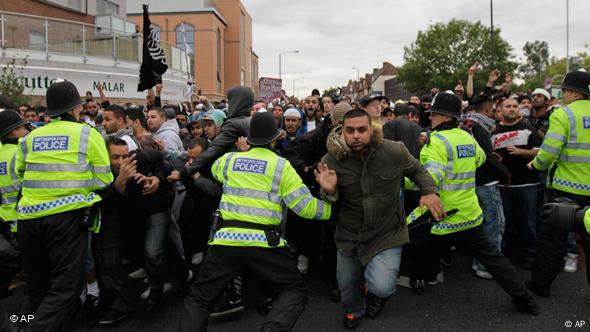 Police were unable to prevent some protesters from breaking through
There are conflicting reports as to which group was the aggressor. News agency AFP reported that many of the SIOE supporters were skinheads.
The anti-Islamic SIOE protesters - rallying under the banner "Racism is the lowest form of human stupidity, but Islamophobia is the height of common sense" - had earlier vowed to protest peacefully.
London authorities had feared violent outbursts on the anniversary of the 9/11 attacks following clashes a week earlier at a rally against Islamic fundamentalism held by a right-wing group in the central English city of Birmingham. More than 30 people were arrested in that incident.
dfm/AFP/AP/Reuters
Editor: Rick Demarest