After 12 years, Nobel Peace Prize Laureate and Africa's first female president, Ellen Johnson Sirleaf, is ready to hand over power. When she first elected in 2005, many in Liberia and the international community had high hopes for Sirleaf, yet over time Liberians have criticized her for not doing enough to root out poverty and corruption. DW spoke to Elizabeth Donnelly, deputy head of the Africa Program at Chatham House in London.
DW: In your view, what kind of legacy does Ellen Johnson Sirleaf leave behind?
Elizabeth Donelly: Ellen Johnson Sirleaf leaves a mixed legacy behind her because on the one hand she is responsible for helping to sustain peace in Liberia since the end of the civil war in 2003. She's also taken positive steps to improve the livelihoods and particularly the protection of women in Liberia, such as ensuring that women could be recruited into the armed forces. So she has tried to take steps there. She was also keen on seeing that there is a professional and peaceful transition to the next government in Liberia in January.However this is all overshadowed by allegations of corruption against her sons and the steps she is alleged to be taking to try and protect them from any kind of investigation.
Liberia ranks 90th out of 176 countries in the 2016 Corruption Perception Index Transparency International. Do you think this dents her achievements, as the first African female president?
Unfortunately, it does dent her achievement. This really captured headlines. And the fact is that Liberia remains a country that is really underdeveloped. It ranks among the lowest of countries in the Human Development Index. So it has a long way to go. And this is why, in part, the rhetoric for change is winning in Liberia. So I would say that it has certainly undermined her efforts as it would with any president, regardless of their gender. But I know that expectations of her were high indeed.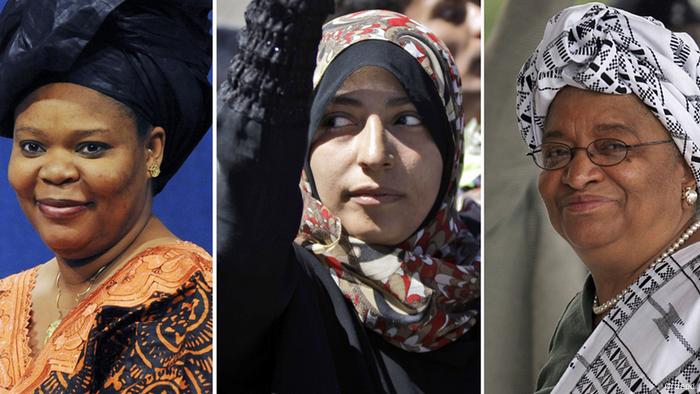 In 2011, Sirleaf won the Nobel Peace Prize together with Liberian activist, Leymah Gbowee, and Yemeni activist,Tawakkul Karman.
Poverty levels and unemployment especially among the youth remain high, making Liberia one of the world's poorest nations. Why has Sirleaf not been able to deal with the rampant poverty in her country, despite having worked at the World Bank and UN agencies dealing with such issues?
It is quite right that Liberia remains very poor. In fact it ranked 177 out of 180 countries in the Human Development Index. Part of this is [due to the lack of] capacity to implement policy. If you are looking at an immediate post-conflict environment, it can be difficult and complex to do the work of rebuilding the country, consolidating peace and sustaining a transition towards democracy all at the same time. However, it is clear that much more needs to be done and should have been done. There is verylimited infrastructure in the country. In a country where the medium age is 18, unemployment is a real concern. So there is a lot to be done. Going forward, these things will need to be addressed, and the hope is that the country now has more of a track record of peace, so that perhaps some of this can be moved forward. But again, these allegations of corruption raise questions about her ability and whether she could have done more during the period. It's also important not to forget the Ebola crisis that unfolded in Liberia in 2014, which seriously eroded development gains as well.
Are you saying that it was too much for her to tackle?
Not necessarily too much to tackle. I think it is a question of prioritization and capacity to implement. Liberia also benefited a great deal from support from the UN support, the US and so on. So there were definitely international partners seeking to support the country. But it had just emerged from a traumatic and long civil war. So it certainly had a lot of ground to make up for, before it could even start making that kind of progress.
What should be the main priorities for the incoming president?
One thing that will need to be tackled and is at the forefront of most people's minds, is quite simply roads. In a number of focus groups that the National Democratic Institute ran, one of the key things that different voters, both male and female, remarked upon, was the need to have roads. Liberia has very heavy rainfall, which means moving around the country is very difficult. This has clear implications for development, for trade, for small business growth in the country. Even reaching health facilities is difficult. So infrastructure is going to be one of the key things that the new government will have to tackle and then linked to that is the issue of job-inclusive economic growth and of course sustaining peace.
Elizabeth Donnelly is the deputy head of Africa program at Chatham House in London.
Interview was conducted by DW's Zipporah Nyambura.