A leading member of Denmark's second-largest party, the anti-immigration Danish People's Party, called on Thursday for the country to deny entry to Muslim asylum seekers.
Speaking to the Berlingske newspaper, the party's deputy leader Soeren Espersen said that Muslim migrants should be barred from entering Denmark for up to six years. Denmark needs "a respite after recent terrorist attacks in Europe," he said.
However, the leader of the Danish People's Party, Kristian Thulesen Dahl, along with partners in the ruling Liberal party, questioned the proposal. They said that their respective parties do want to discriminate against migrants based on religion.
Espersen insisted that his proposal did not contravene the party line. "It is a recognition of the terrorism threat emanating from the Muslim community," he told news agency Ritzau. "It is certainly not the same as saying that all Muslims are terrorists."
Another senior member from the Danish People's Party confirmed on Denmark's TV2 television channel that the group's stance was indeed to introduce a ban on Muslim asylum seekers.
Critics lash out at proposed Muslim migrant ban
The Danish People's Party became the country's second-largest party after last year's elections, and currently provides parliamentary support for the ruling center-right Liberals.
Critics from across the political spectrum have condemned the proposal, saying that it wrongly conflates all Muslims with Islamic extremists.
The opposition Social Democrats compared Espersen's rhetoric with that of the United States Republican presidential candidate, Donald Trump, who has also called for a ban on all Muslims entering the US. Espersen insisted that his proposal was different as it only targets asylum seekers.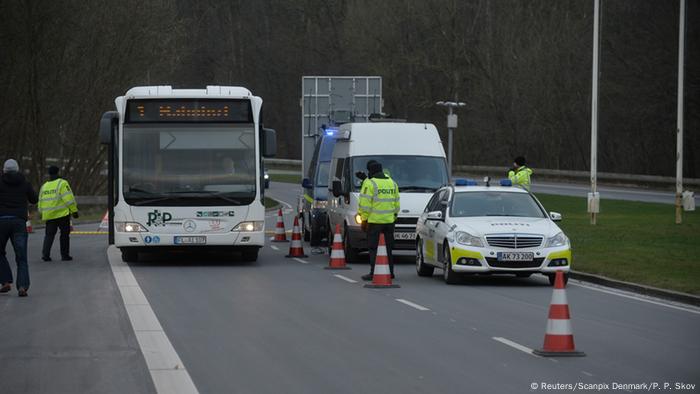 Denmark has implemented border controls with Germany to curb the influx of migrants and refugees
The Danish People's Party immigration spokesman, Martin Henriksen, told the Associated Press that the party would not look to implement a law expressly banning Muslim migrants, although that is the party's principal goal. A crackdown on immigration should be written as "religion neutral," he said, which would halt Muslim immigration.
"If we can get it to a total halt, it would be very, very good," Henriksen said. "We would like to get it as close to zero as possible."
'Serious concerns' over asylum and immigration
Denmark received 21,000 asylum applications in 2015 - up from 14,815 in 2014 and just 7,557 in 2013. The country - which has a population of just over 5.5 million people and enjoys generous welfare benefits - has struggled to handle the influx of migrants.
The Scandinavian nation has passed increasingly heavy-handed immigration and asylum laws since the turn of the year. The most controversial law, passed in January, allows authorities to seize valuables from refugees worth more than 10,000 Danish kroner, (1,340 euro, $1,490), as well as cash sums above the same amount.
Center-right lawmakers have shrugged off international outcry regarding the laws.
The Danish government also introduced border controls with Germany in January, defying the European Union's Schengen agreement for free movement. After several extentions, the controls are scheduled to remain in place until November 12.
dm/kms (dpa, AP)